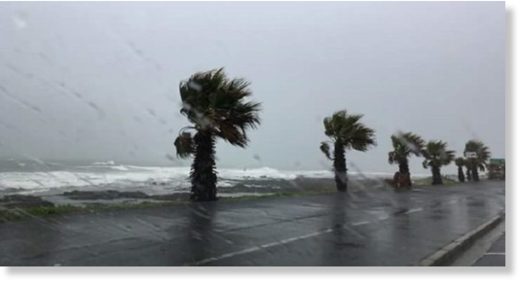 Ooft, Sunday morning was above and beyond hectic. The Cape Town weather has been unforgiving,
as the heavens opened up and delivered a deluge to the city.
Around 9:00, severe downpours hit the CBD and its surrounding areas hard. The South African Weather Service (Saws) have already issued several weather warnings for Sunday, as the region attempts to deal with "adverse cyclonic conditions".
Many Capetonians were stirred from their Sunday slumber by the sound of rain battering the windows, as howling gales blew inland. This was the scene in Sea Point,
where torrents of water engulfed the streets:
Yoh it rained so hard in Sea Point just now. Proper big rain. Literally took 10 min for the road next to my building to flood. Owner of the Audi is not gonna be happy pic.twitter.com/PCSOF8i96Q

— Daddy (@LifeisSavage) July 1, 2018
Across the City Bowl, the wild weather made its mark. After months of sweating over how much rainfall the drought-stricken region would get, it would seem like this recent deluge will see dam levels rise for a sixth week in-a-row next week:
Oh, and props to the lone delivery guy who makes an appearance in the next video. Whoever this hero is - getting breakfast to those in need, regardless of the weather - deserves a pay rise: