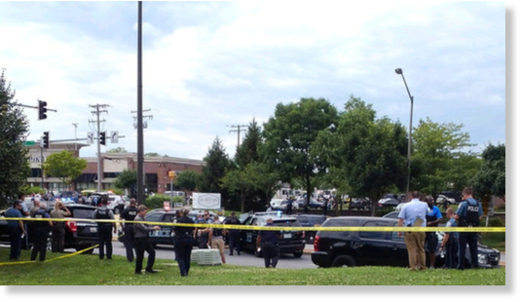 Several people have been reportedly shot dead by a gunman at the offices of
Capital Gazette
, a newspaper in the Maryland capital of Annapolis. The shooter is reportedly in police custody.
There are multiple reports from local media that "at least four people" have been shot.
There is a massive police presence on Bestgate Road in Annapolis, an office park across the street from the Annapolis Mall.
"A single shooter shot multiple people at my office, some of whom are dead," Gazette's crime report reporter Phil Davis said on Twitter, while waiting to be interviewed by police.
"There is nothing more terrifying than hearing multiple people get shot while you're under your desk and then hear the gunman reload."
Anne Arundel Sheriff Ron Bateman told Fox News the attacker was in custody. Emergency scanner traffic spoke of "four deceased."
"We do have injuries. We did have an active shooter situation," Lt. Ryan Frashure, spokesman for the Anne Arundel Police Department, told reporters. He declined to comment on the nature of injuries, or whether the suspected attacker has been arrested.
Following speculation that the shooting may have been motivated by hostility for the media, police in Baltimore and New York City have stationed officers at newsrooms for protection.
The
Baltimore Sun
, which owns the
Gazette
, confirmed that police have visited their newsroom on Thursday afternoon.
Annapolis is a city of some 40,000 residents on the shores of Chesapeake Bay, and is the state capital of Maryland.