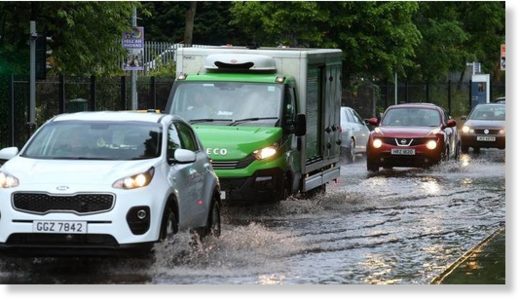 There was widespread flooding across many parts of Northern Ireland on Friday night.
The Met Office issued a yellow weather warning for Friday and most of Saturday telling the public
to brace for extreme weather with thunderstorms and flooding expected.
The north west appeared to bear the brunt of the worst. Roads in Ballykelly and Greysteel and Limavady were near impassable while there are incidents of flooding in Magherafelt which the Fire Service attended.
The Meadowlane Shopping Centre in Magherafelt was flooded.
There was also flash flooding on the Falls Road and difficult driving conditions reported in Lisburn.
Just spoke with our councillor Darren Totten at Meadowlane Shopping centre as the clean up is underway. Here is the flood line number 03002000100 for anyone who needs to report floods after tonight's flash floods https://t.co/ebmxy8eDho

— michelle oneill (@moneillsf) June 1, 2018
The public have been warned that there could even be a chance of fast flowing or deep floodwater causing danger to life.
A Met Office spokesperson said that "there is a small chance that homes and businesses could be flooded quickly, with damage to some buildings from floodwater, lightning strikes, hail or strong winds".
"Where flooding or lightning strikes occur, there is a chance of delays and some cancellations to train and bus services," a spokesperson said.
"Spray and sudden flooding could lead to difficult driving conditions and some road closures. There is a slight chance that power cuts could occur and other services to some homes and businesses could be lost."
On Friday a yellow weather warning will be in place until 10pm with scattered thundery downpours expected from late morning with localised hail and flooding. Some places may avoid the rain and it will still be very warm throughout the day with maximum temperatures reaching 25 °C.
On Saturday there will be some sunny spells, with scattered thundery showers breaking out again inland, with a risk of localised flooding. The maximum temperature will be 25 °C. A yellow weather warning will be in place between 11am and 9pm.