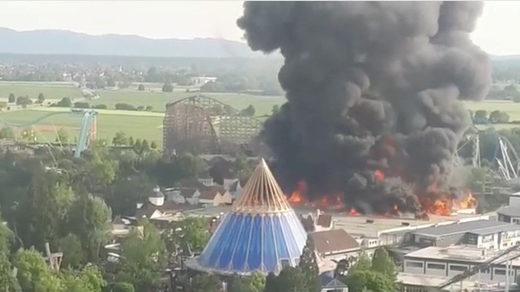 A huge fire has broken out at Europa-Park in the German town of Rust, the second most visited theme park in Europe after Disneyland. The inferno prompted the visitors to evacuate as many lamented their favorite attraction online.
A huge plume of black smoke has risen hundreds of meters in sky as
a warehouse near the attraction called
"
The Pirates of Batavia
"
caught fire
on Saturday, the emergencies services said.
The disaster led to the evacuation of visitors from the Scandinavia area of the park closest to the blaze. The police said that, according to preliminary data, there were no deaths or injuries.
The authorities have so far been unable to contain the fire, which continued spreading. Around 200 firefighters
have been involved in putting out the blaze, with additional units from nearby Karlsruhe and Freiburg sent to the site.
Located in south-western Germany, near the French border, Europapark is the second most visited theme park in Europe, which attracted more than 5.6 million people last year. Social media has been filled with posts of its fans and past visitors, already lamenting a possible indefinite shutdown of the attraction.
However, not everybody was upset and rushed to evacuate, as one of the visitors filmed himself riding an attraction and later cheered on Twitter that the long lines in the park were gone because of the blaze.