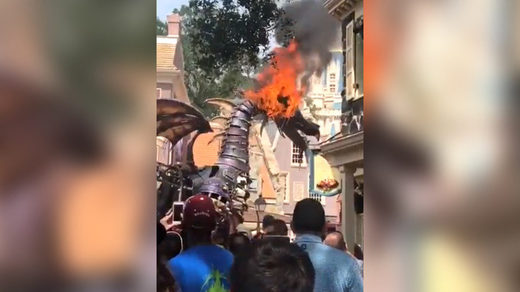 A fire-breathing dragon went up in flames during a parade at Disney World, Florida on Friday. Onlookers remained calm during the incident, apparently under the mistaken belief that it was part of the show.
The dragon float caught fire during the daily Festival of Fantasy Parade in Magic Kingdom. Videos from the scene show flames and plumes of black smoke rising from the robotic dragon's head.
The creature, who represents the villain Maleficent from Sleeping Beauty, continues to move its head and neck as an employee extinguishes the fire. Onlookers made the most of the unexpected drama by snapping videos and photos of the blazing figure.
An image taken in the aftermath of the blaze shows the dragon being taken away - charred, but intact. Nobody was injured in the incident,
according to
Disney World's public affairs department.
RT has reached out to Disney for further comment on the incident and the investigation into the cause of the fire.