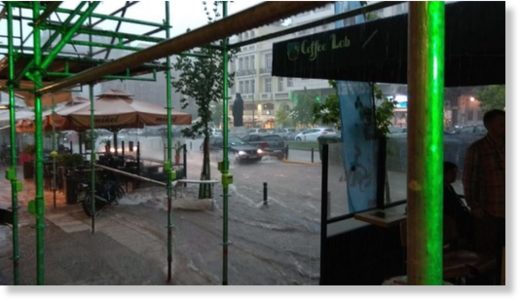 Fire service crews are searching for a person who was swept away by flash flooding in Thessaloniki, northern Greece following a hailstorm on Thursday.
The incident happened at the Sykies neighborhood of the Greek city.
Local sites report that the storm that struck on Thursday lunchtime and created huge problems.
Many ground-floor and basement shops and houses were flooded during the downpour, which turned roads into rivers
and flooded the city's landmark White Tower on the seafront, as well as the basements of Thessaloniki City Hall.
The city also experienced power cuts due to the thunderstorm, while lightning falling on the city's Macedonia International Airport caused the authorities to stop the refuelling of planes as a safety precaution.
The airport has now resumed normal functioning, Fraport Greece spokesman Yiannis Papazoglou told the Athens-Macedonian News Agency.