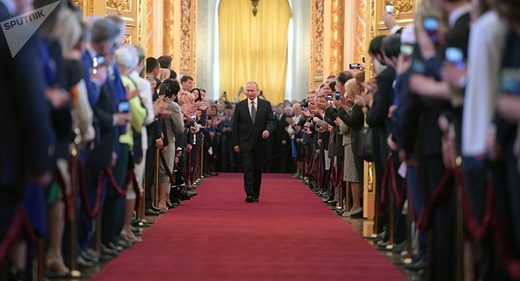 A ceremony to swear Russian President Vladimir Putin in for a new presidential term has been held in the Kremlin. Sputnik looks into the main highlights of Putin's speech during the event.
When taking oath, Vladimir Putin has revealed the key tasks for the government in the next six years.
"Our goal is Russia for people, something that should become a country of opportunities for everyone's self-realization, " the newly sworn-in Russian president pointed out.
Putin stressed that the Russian government "should provide development of areas where we have always been strong, as well in the areas where we haven't done enough."
"I believe that guaranteeing Russia's peaceful and prosperous future is my obligation and meaning of life," the Russian head of the state stressed.
Progress in All Sectors
He pointed out that the country needs to progress in all sectors, which could be ensured only by a free society.
"We need trust in our society. We all should get engaged. Transformation depends on all of us," Putin added.
Putin also expressed certainty that Russia would manage to achieve a major breakthrough because the entire country is "one big team, which can solve any task."
"We need breakthroughs in all spheres of life. I am deeply convinced that such a breakthrough can only be provided by a free society that perceives everything new and advanced, rejecting injustice, stagnation and bureaucratic deadness - all that binds people and prevents them from fulfilling themselves," he emphasized.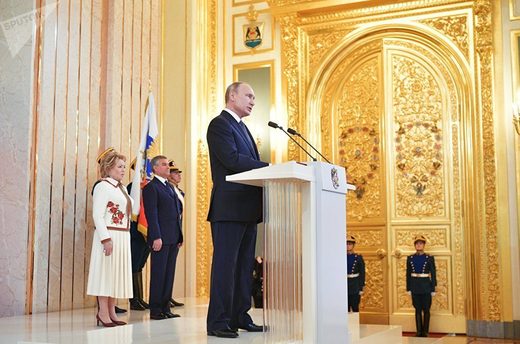 He called for using "all our opportunities to deal with economic and technological breakthroughs in order to increase competitiveness in those areas that determine the future."
Putin described the present time as a turbulent era of change, noting that "the way forward is not easy."
Keeping Pace With Global Challenges
Putin underscored the need "to keep pace with global changes, and build our agenda for breakthrough developments so that no obstacles and circumstances could prevent us from defining our future and implementing the most daring plans and dreams."
"We stand for equal and mutually beneficial cooperation with all states in the interests of peace and stability on our planet. Russia is a strong, active and influential player on the global arena. The country's security and defense capability are reliably secured. We will continue to pay necessary and constant attention to these issues," Putin concluded.
During the May 7 inauguration, after taking the oath, Putin was followed by the Constitutional Court chairman who handed the Russian president the symbols of state power and announced his assumption of office.
Apart from government officials and others guests, including several Russian celebrities, who were part of Putin's election campaign, the ceremony was attended by former German Chancellor Gerhard Schroeder, as well as US actor Steven Seagal, who was granted a Russian passport in 2016. Moreover, ex-Italian Prime Minister Silvio Berlusconi was invited to the event, however, it has remained unclear whether the politician attended it so far.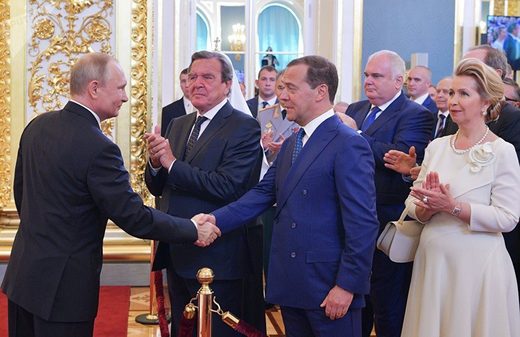 The presidential election was held in Russia on March 18 with voter turnout standing at 67.54 percent. Putin won the elections gaining 76.69 percent of the vote, with over 56.4 million voters casting their ballots for him, according to Central Election Commission data.