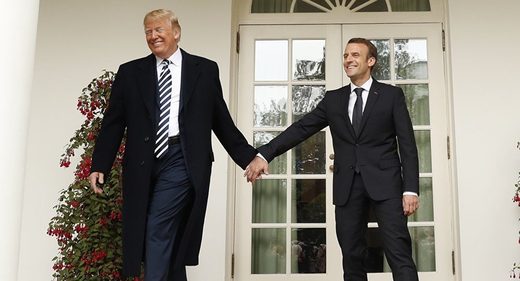 Last week French President Macron and German Chancellor Merkel visited Trump. In contrast to Macron and Trump's 3 day 'love in', Merkel spent a mere 3 hours with the POTUS, but both European leaders had the same agenda: preventing Trump from starting a 'trade war' with the EU and backing out of the 'Iran deal'. Why does Trump think the 'Iran deal' is "bad" anyway?
Reading between the lines of comments by both Macron and Merkel, it is clear that Trump's protectionist and isolationist bent is deeply concerning to the stewards of the 'Western order' on both sides of the Atlantic. After all, who will 'contain' Russia and Iran and protect Israel and Saudi Arabia? For 70 years the Europeans have merely played the role of NATO cheerleaders for US imperialist wars under the NATO flag. Are they really expected to go it alone now?
In another blow to the Western world order, there were extraordinary scenes in the demilitarized zone (DMZ) of Korea this week as the leaders of the two Koreas met for the first time in 11 years and agreed in principle to formally end the Korean War, with Chairman Kim Jong-un becoming the first North Korean leader to cross the border into the South since the Korean peninsula was partitioned in 1945.
A little over a year ago, the situation in Korea looked far from peaceful as North Korea and the US began a war of words (and a display of missile capability) that apparently portended imminent global nuclear Armageddon. What changed? Or what were people missing? And if it's possible for
this
conflict to be resolved amicably, could peace break out in other hotspots like the Middle East?
Tune in this week from 12-1:30pm EDT / 6-7:30pm CET this Sunday April 29.
Running Time:
01:48:01
Download:
MP3