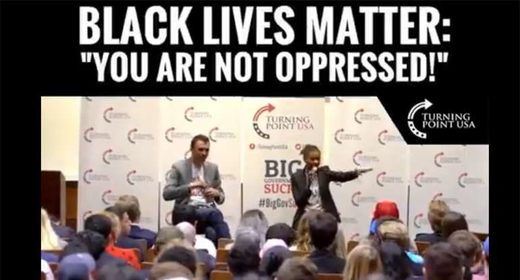 In recent years, many people around the world - but particularly in 'Western' societies - have become quite adept at the art of 'being oppressed' and letting everyone know about it. The victimhood narrative is part of a mindset that draws quick conclusions and assumes the worst in people. It leaves little room for such adepts to grow beyond the challenges we all face because it foists the responsibility needed to face the world onto others. It moves them away from any thought of a charitable society and draws them deeper into the victim culture.
We see this in many of liberals' pet projects: from gay rights, to the ideology behind transgender activism, to Black Lives Matter.
Oppression has been used an as excuse to demand power from others. Power is sought not as a result of efforts made that earn greater responsibility, but by way of self-proclaimed victim status.
Characteristics that makes us strong, such as effective communication, thinking deeply about our problems, and conscientiousness have been tossed aside in favor of elevating victimhood in order to exploit the good nature of others. That said, not everyone is buying this victim mentality. It is being challenged in big ways. One such challenger is Candace Owens, a conservative commentator and communications director for Turning Point USA.
Owens made a splash addressing a Black Lives Matter protest during a recent event at UCLA.
She noted there is a significant "ideological civil war" happening among black Americans who "are focused on their past and shouting about slavery and black people that are focused on their futures."
"Victim mentality is not cool. I don't know why people like being oppressed," Owens added. "'We're oppressed! Four-hundred years of slavery! Jim Crow!' By the way, none of you guys lived through [that]," she rebutted. "Your grandparents did and it's embarrassing that you utilize their history. You're not living through anything right now.
You're overly privileged Americans.
"
Owens's smackdown went virial in no small part due to notable support from rapper Kayne West, who tweeted praise of her message to his 18 million followers:
West soon followed with a tweet storm lambasting victim mentality, apparently responding to the backlash of 'progressive' critics who were outraged over West's promotion of more conservative ideas.
Owens described the backlash she received during her Sunday interview on Fox & Friends.
"In about 10 seconds I became the KKK member, anti-LGBT, you name it," she said. "Just because I think differently and I refuse to accept this narrative that I'm a victim. I'm not a victim."
The ironic thing here is that Candace is a victim of liberal slurs that have become commonplace, but which only alienate the new left themselves from the world around them. Yet Owens, like many others, refuses to wear victimhood as a badge to demand the acceptance of her arguments.
There are better things to pursue - like reason, personal responsibility, and finding ways to contribute to society rather than trying to tear it down.
Jordan Peterson in an interview with Fox & Friends on Monday talked about the recent events with Candace Owens and the influence of identity politics. He said it's "very, very dangerous" for the radical left to be dividing people into two groups - the victims and the oppressors. He added that the filtering of everything with a group identity puts people back in a tribal situation and creates conflict.
"Candace is objecting to that and rightly so. It's an unbelievably pernicious ideology," Peterson said. "And the universities are to blame for distributing it, in large part. It's really appalling and dangerous."
Peterson is right about universities being largely to blame. Universities have become the breeding ground for the worst kind of pseudo-intellectualism driven by ideology masked in 'scientific' sounding words. Psycho-babble rules the day. Lambasting 'privileged, cishet (cis-gendered heterosexual) toxic' conservatives is a trap.
Engaging in modern victim culture provides no reasonable way out.
An idea's validity can be tested by the kind of solutions that develop out of it. Safe spaces, exclusionary events, forced indoctrination of political ideology, censorship, violence, and grown adults throwing public tantrums aren't exactly the solution to anything, at least nothing good.
Such 'solutions' lead their advocates into self-imposed isolation, and then they scream about the bloody injustice of it all when they find themselves in their self-imposed isolation. You get out of life what you put into it.
Criticism of various liberal campaigns by and large doesn't come from widespread existence of 'institutional oppression' or 'innate bias' or 'toxic masculinity', but rather it comes from reasonable objection to the provocative tactics, statements, and self-indulgent behavior that so often cross the line of basic decency.
One of the key issues here is that progressives have taken the stance that conservatives are the 'enemy'. Domestic issues in the US are really no longer about gun control, abortion, or immigration. The left has a pervasive and pernicious view of conservatives as a bunch of dumb, racist Nazis whose mere existence threatens their lives. Such a view has split American society in ways that haven't been seen since actual slavery, except now it covers larger segments of the population.
The far left's disparaging tactics are nothing new nor are they infrequent. Just
a few days ago
a group of well-to-do 'socialists' chased Milo Yiannopoulos, a gay Jewish conservative who is married to a black man, out of a ritzy New York City pub on Park Avenue because they claim he is a white supremacist Nazi. What was their reason for shouting Yiannopoulos out of the bar as 'Nazi scum'? Apparently, there was an instance of some white nationalists who once gave him a Nazi salute. Guilt by non-existent association. And it should be noted that this wasn't an outlying group of radical socialists.
What should be fringe views and behavior are being advanced by prominent voices on the left.
The mob who hounded Yiannopoulos included an editor at
The Nation
, Annie Shields, and a Gizmodo reporter, Brendan O'Connor.
What underpins these campaigns isn't the pursuit of a better society.
If that were the case, they wouldn't be regularly denigrating and provoking half the population in the most derogatory of ways.
Instead, the idea is to create an enemy, a perpetrator with malicious intent who is keeping humanity from achieving some 'utopia' (where everyone thinks the same).
The mechanism at work isn't just to induce fear. By creating the enemy, they also establish the victim. Victim culture cannot exist without it. Victim culture is the guiding force of the modern progressives. Since liberals tend not to value authority, they turn instead to the power of amorphous social opinion, subjective interpretations of social experiences, and limited contextual information.
One of the reasons 'social justice' is so powerful is because there is no need for personal responsibility. SJWs represent themselves as speaking for a large group of people, and there is no way to verify, support, or refute such statements. Other group-minded individuals agree, and soon they've established a new 'reality' that isn't mirrored by actual reality at all. Their ultimate authority appears to be subjectivity, an abyss that provides mixed messages and invites instability.
The far-left reject the reasons why many people don't accept their ideology in favor of oversimplified and cynical beliefs. All disagreement with leftist concepts of society and how and why it exists is explained away as hatred, and leftists lash out with particular venom at those who are supposed to fit into identity politics boxes, but refuse to do so. Milo Yiannopoulos, Candace Owens, Christina Hoff Sommers, and Ben Shapiro could all easily claim the so-called benefits the extreme left offers, but they don't. They speak out, and without fail are described as fascists, Nazis, and racists.
There is a way to face into and accept reality without succumbing to the burden it represents for us all. Human weakness and the tendency to victimhood and self-indulgence should be challenged and mastered by way of sustained, conscious effort. Indulgence of the self-serving mind is powerful and can run deep from within our subconscious. It operates on fear, appeal to personal power, entitlement and deception. Being possessed by ideas, as Peterson speaks of, only seems to happen when our sense of self, our will, is weak. The dominating liberal narratives governing much of modern Western societies has formed people into malleable servants guided by fantasies of utopia without imparting the strength of character to first understand ourselves, which is the first step towards learning to shoulder the burden of living with grace and humility.
This different way, the 'victor mentality', isn't complex, but it isn't easy either. It counters the indulgence of the self and in doing so invites greater responsibility bringing more meaning to life. This is the mode of living that people like Candace Owens, Jordan Peterson, and yes, even Kanye West are promoting.
We can gain some insight on the rather powerful influences of victimhood and how to counter it from Carl Jung's personal voyage through neurosis as a boy.
Colliding with reality: What depth psychology tells us about victimhood
When Carl Jung was a 12-year-old schoolboy, he was shoved to the ground by another child, hitting his head on the pavement, and nearly losing consciousness. Instantly, he grasped the opportunities created by this attack.

At the moment I felt the blow, the thought flashed through my mind: "Now you won't have to go to school anymore." I was only half unconscious, but I remained lying there a few moments longer than was strictly necessary, chiefly in order to avenge myself on my assailant...

From this point forward, Jung began having fainting spells whenever he returned to class or attempted homework. For six months, he did not attend school. His worried parents consulted doctors, and sent him away to convalesce. Jung described this period as "a picnic." Beneath his giddiness, however, he sensed something was amiss.

I frittered away my time with loafing, collecting, reading, and playing. But I did not feel any happier for it; I had the obscure feeling that I was fleeing from myself.

Eventually, Jung forgot how his infirmity arose. His invalid status was taken for granted, and he didn't question it or concern himself with a remedy, until he overhead a conversation that shook him into awareness.

Then one day a friend called on my father. They were sitting in the garden and I hid behind a shrub, for I was possessed of an insatiable curiosity. I heard the visitor saying to my father, "And how is your son?" "Ah, that's a sad business," my father replied. "The doctors no longer know what is wrong with him. They think it might be epilepsy. It would be dreadful if he were incurable. I have lost what little I had, and what will become of the boy if he cannot earn his own living?"

I was thunderstruck. This was the collision with reality.

"Why, then, I must get to work!" I thought suddenly.

At that moment, Jung became a "serious child." He went straight to his father's study and began working intensely on his Latin grammar.

After ten minutes of this I had the finest of fainting fits. I almost fell off the chair, but after a few minutes, I felt better and went on working. "Devil take it, I'm not going to faint," I told myself, and persisted on purpose. This time it took about fifteen minutes before the second attack came. That, too, passed like the first. "And now you must really get to work!" I stuck it out, and after an hour came the third attack. Still I did not give up, and worked for another hour, until I had the feeling that I had overcome the attacks. Suddenly I felt better than I had in all the months before. And in fact the attacks did not recur. From that day on I worked over my grammar and other schoolbooks every day. A few weeks later I returned to school, and never suffered another attack, even there. The whole bag of tricks was over and done with! That was when I learned what a neurosis is.
There is a heavy price to pay for the indulgence of victimhood, and most notably, as Candace Owens remarked,
it is our own futures
. No human being on this planet gets to escape the suffering inherent in life. We're all destined to be victims in one way or another. It's true that some suffer more than others, but it is within our own unique challenges that we are presented with a choice. Jung realized that sustained effort on his part was needed to overcome the neurosis he was experiencing.
Conscious, deliberate effort towards specific aims, rather than mere self-restraint, seems to be the powerful countering influence of our tendency for self-indulgence,
entitlement and victimhood
. We need to nourish ourselves with the good things in life and challenge ourselves to grow in will power and knowledge. When we don't, a void remains that demands to be fed. It doesn't care what it eats. Most easily and readily, it consumes ideology, zealotry, drama and lies. It destroys our lives and the lives of others.