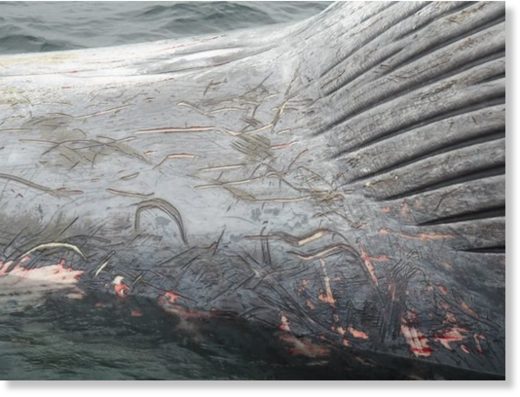 After three Bryde's whales died off Mossel Bay's coast in the past two weeks alone, an investigation is now underway by the Department of Environmental Affairs (DEA) and the Department of Agriculture, Forestry & Fisheries (DAFF) to figure out why, reports
Times LIVE:
Bryde's whales are divided into an inshore and an offshore form, and the latest assessment of the species by the Endangered Wildlife Trust (EWT) classified the inshore form as "Vulnerable" and the offshore form as "Data Deficient":
And the three that washed up along the shores of Mossel Bay were of the inshore form, all dying from suspected entanglement [above]:
Samples from two of the three recent whale strandings have been collected. Consultations are under way with local and international experts.

"These results will help to identify the possible causes of death for the whales stranded at Mossel Bay and will help to inform management interventions, where necessary," the department stated.
Whale three, below, from
Mossel Bay Advertiser
: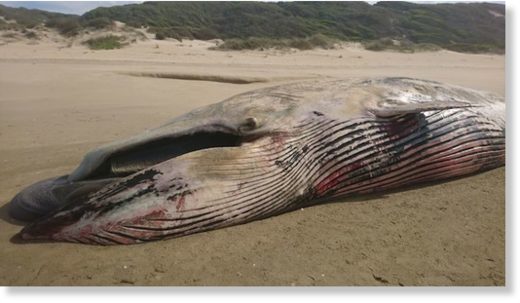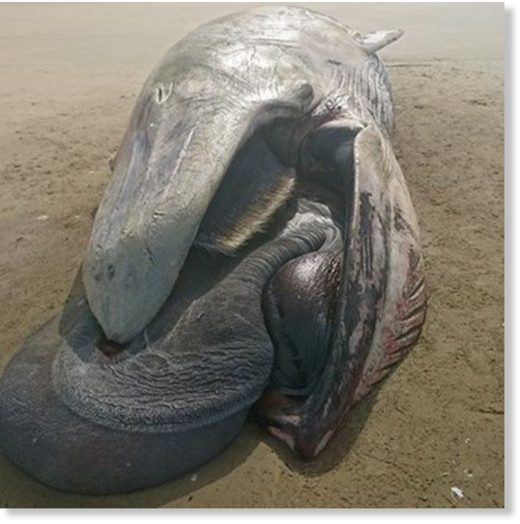 Now, the DEA has said that there is currently "a perception" that the Experimental Octopus Fishery may have contributed to the deaths:
Although this needed to be probed, the department said, "as the octopus fishery make use of lines and buoys that have the potential to entangle whales, ongoing attention is being given to the octopus fishery's gear design to limit possible whale entanglements."
This is not the first time the issue has been brought up. In June last year, concerns around this fishery, including gear designs, were already discussed at a stakeholder workshop coordinated by DAFF:
"The experimental nature of this industry means stakeholder engagements are ongoing and all concerned parties should approach DAFF for further industry specific queries and DEA can be contacted if any whales are observed that are entangled, including in fishing gear. . .

"DAFF will, with the assistance of DEA and all roleplayers, continue to monitor this experimental fishery closely. Mitigation measures will be implemented as the need arises."
Other potential causes of death might include ship strikes, other type of fishing gear or of natural nature, the environmental affairs department noted.
Oh, and before we go: the pronunciation of the name Bryde's is not, as is generally thought, the same as bride - a woman on her wedding day - but rather, BROO-dus.
You can never have too much whale knowledge, ya know?