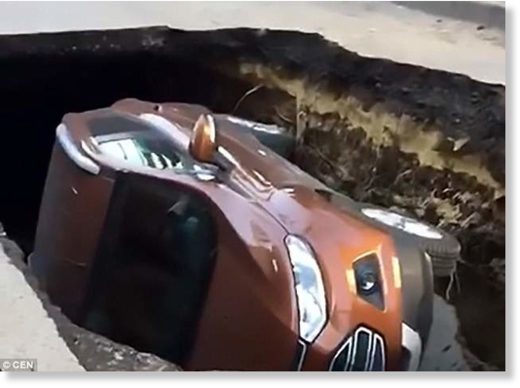 This is the unbelievable moment a Russian SUV owner got the shock of their lives after returning to where they parked their car only to find it had been swallowed by a sinkhole.
The incident occurred in the city of Rostov-on-Don close to the border with Ukraine and was caught on camera by flabbergasted onlookers eager to get a closer look.
In the bizarre footage, filmed on a smartphone, the car can be seen lying on its side in the gigantic cavity in the road.
As the camera moves around the site the true scale of the sinkhole becomes apparent as it appears to be wider and longer than the stricken vehicle.
People can be seen standing just metres away from the wreck - coolly discussing and observing the phenomenon without fear for their own safety.
Luckily for the owner, no-one was in the car when the road collapsed and there were no other injuries to people in the nearby area.
According to local media, the local water company later managed to winch the vehicle out of the hole - although it had sustained some damage.
It is not yet known what caused the ground to collapse under the car but local authority officials have launched an investigation.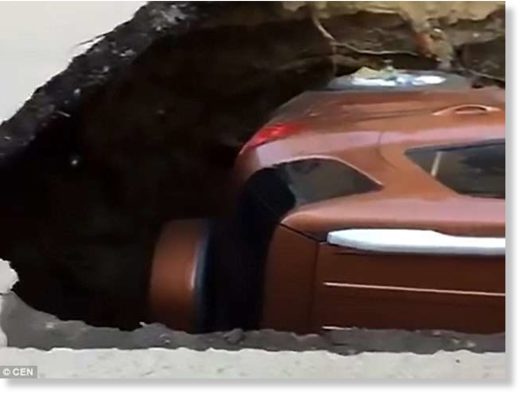 The Russians certainly seemed to see the funny side after the clip was shared on social media.
'I wonder who will be covering the expenses for the car repairs?' Alexander Kingson wrote.
While Vladimir Rostovskiy joked: 'An alternative entrance to Narnia.'
Another online commentator, Aleksey Kalashnikov, commented: 'I feel really sorry for the car owner'
While another user said: 'Elon Musk is sending cars into outer space, and we are sending cars to the underground.'
Rostov-on-Don is a major port city which will also be one of the host cities for the 2018 FIFA World Cup.