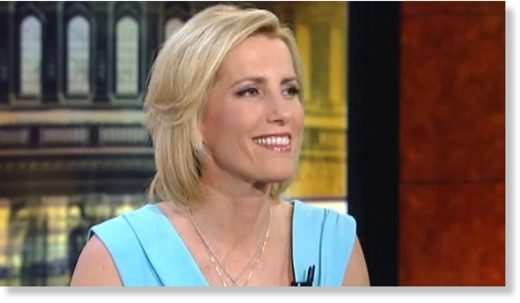 Embattled Fox News host Laura Ingraham has found some unlikely allies: Russian bots.
Russian-linked Twitter accounts have rallied around the conservative talk-show host, who has come under fire for attacking the young survivors of the Parkland school shooting. According to the website Hamilton 68, which tracks the spread of Russian propaganda on Twitter, the hashtag #IstandwithLaura jumped 2,800 percent in 48 hours this weekend. On Saturday night, it was the top trending hashtag among Russian campaigners.

Comment: "Russian propaganda" has now just become a euphimism the MSM uses for anyone who doesn't toe the US Empire's line on any idea that it is spreading to control the thinking of people. We should all be concerned that if you think differently than the accepted mainstream version of any event, you'll be labeled a 'Russian bot'. Anybody who still thinks for themselves is just a Putin plant now!


The website botcheck.me, which tracks 1,500 "political propaganda bots," found that @ingrahamangle, @davidhogg111 and @foxnews were among the top six Twitter handles tweeted by Russia-linked accounts this weekend. "David Hogg" and "Laura Ingraham" were the top two-word phrases being shared.
Wading into controversy is a key strategy for Russian propaganda bots, which seize on divisive issues online to sow discord in the United States. Since the Feb. 14 Parkland shooting, which claimed 17 lives, Russian bots have flooded Twitter with false information about the massacre.
Researchers who follow the issue found that in the days after the shooting, #Parkland, #guncontrolnow, #Florida and #guncontrol were among the top hashtags used by Russia-linked accounts. (Previously, those accounts had been focused on special counsel Robert Mueller's investigation of Russian interference in the 2016 U.S. presidential election.)
"This is pretty typical for them, to hop on breaking news like this," Jonathon Morgan, chief executive of New Knowledge, a company that tracks online disinformation campaigns, told the New York Times. "The bots focus on anything that is divisive for Americans. Almost systematically."
Comment:
That's right. According to this sniveling lapdog of the state, anyone who disagrees with the prevailing media narrative on breaking news is just a bot. He probably thinks they all should just
shut up and go away
.
Ingraham came under harsh criticism after she mocked Parkland shooting survivor David Hogg, who had spoken out about his disappointment at not being accepted by four University of California schools, including UCLA. Hogg has a 4.2 GPA and a 1270 SAT score.
Ingraham's criticism came amid a broader effort by gun rights activists to discredit Parkland teens pushing for stronger gun-control laws.
In response, Hogg took to Twitter to call on the companies that advertise on Ingraham's Fox New program to pull their ads. Within days, Johnson & Johnson, Nestlé,
Hulu
, Jos. A. Bank, Jenny Craig, Ruby Tuesday, Miracle-Ear and several other companies pulled their commercials from the show.
Ingraham later apologized, but Hogg isn't having it. He called Ingraham's apology an insincere "effort just to save your advertisers."
And this weekend, Hogg called Ingraham a "bully" on CNN. "It's disturbing to know that somebody can bully so many people and just get away with it, especially to the level that she did," he said. "No matter who somebody is, no matter how big or powerful they may seem, a bully is a bully, and it's important that you stand up to them."
Ingraham is not on the air this week. She told viewers that she was taking an Easter break, a message confirmed by Fox News to my colleagues at
The Washington Post
.