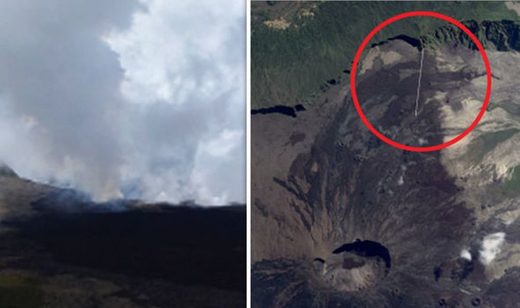 The Piton de la Fournaise volcano on Reunion Island, one of the most active in the world, began erupting this morning for the first time since July 2017.
One scientist warned of a "seismic crisis" after the eruption caused a crack in the crater stretching one mile across the French island, which is located in the Indian Ocean
The eruption was so strong its effected could be seen by satellite, which experts warning it is continuing to "intensity".
And the eruption also caused landslides and fumaroles - openings through which toxic gas escapes.
The Institut de Physique du Globe de Paris (IPGP), a French governmental research institution, said: "The volcanic tremor continues to intensify."
And IPGP seismologist Lucile Bruhat said on Twitter:
"Volcanic eruption in progress in Reunion Island at Piton de la Fournaise. Seismic crisis this morning leading to dike (~1km long) opening."
IPGP flew a helicopter over the volcano and said they're local OVPF team had seen "lava fountains" erupting through the crust of the crater.
They said: "Following a reconnaissance made by a team of the OVPF at the ramparts of the Enclos, the eruptive activity could be confirmed.
"It is located on the northern flank of the volcano at the top of the broken slope.
"A helicopter overflight of the eruptive site by a second team of the OVPF in the middle of the afternoon allowed to locate more precisely the eruption.
"A long crack about 1km long opened in 7 distinct segments, two with emissions of lava fountains.
"The last active segment is just below the rampart below the Sainte Rose Coupé Nose."
They warned the volcanic eruption could escalate over the next hours and days, with new cracks or deformations likely.
They said:" "At 16:00 local time, many landslides were recorded by the OVPF network in the rampart at the Nez Coupé de Sainte Rose area, and many fumaroles were observed on site at this level.
"Given these observations and the location of the downstream point at the foot of the rampart, further propagation (inside or outside the enclosure) of new eruptive cracks over the next few hours remains possible."