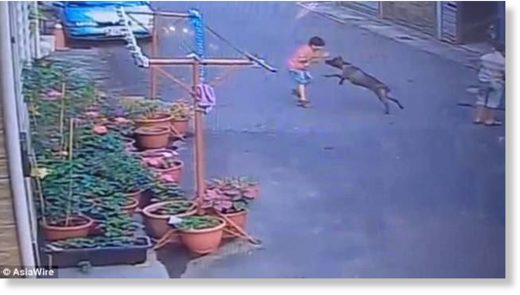 CCTV footage captured the heart-stopping moment a pit bull pup attacked a young boy who tried to feed it biscuits and broke his wrist.
The months-old pit bull mix named Money is believed to have felt threatened when the seven-year-old child who lives next door threw the snack in its direction.
Security video from the alleyway in Kaohsiung City's Hunei District in south-western Taiwan shows the boy trying to back away from the pooch, which continues to charge at him.
Money, who according to neighbours is known for being 'aggressive',
then knocks the child to the ground and begins biting the boy's arm and shaking its head.
The footage shows the pit bull, despite being a puppy, overpowering the victim. Even the 11-year-old boy whose family owns it is unable to stop the attack.
The older boy, surnamed Hsu, said:
'I sat on the ground trying to pull it away, but it wouldn't let go
.'
Hsu's mum, the owner of the pit bull, eventually runs up to separate the dog from the victim, who walks away crying.
According to the seven-year-old's family, he suffered a broken wrist and required surgery, but they have decided not to press charges against their neighbours, who are close friends.
The victim's mother said: 'It was accident, and the owners have been very apologetic about it.'
Money is said to have gone to dog training classes for two months after attacking passing schoolchildren in the past, but they seem not to have worked.
The family has sent Money to a farm, where it will be a guard dog.