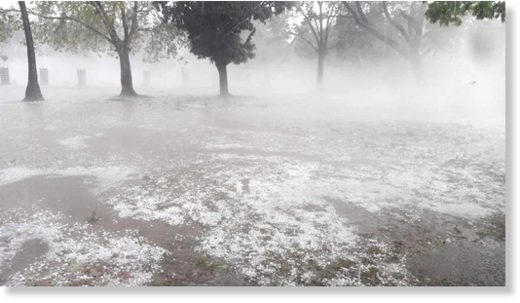 A huge storm and hailstones passed over Rangpur city and surrounding districts on Friday afternoon, resulting in at least two deaths and significant damage to crops. The most affected areas were different areas of Pirganj and Mithapukur upazila.
Meanwhile, one person was killed in Sylhet as a result of flying debris in the storm.
In Rangpur, at least two people have died, and about 50 others were injured, while significant damage was done to trees and households .The two deceased were Shamim of Badarganj and Nayan Miah of Taraganj, both day labourers who were struck by lightning.
Besides Rangpur city, the tornado hit several parts of Gangachhara, Pirganj, Mithapukur, and Taraganj upazilas.
Damage to crops and other farmland was significant due to hailstones the size of rocks.
The Union Parishad Chairmen of Kablipur, Rabiul Islam, Ataur Rahman of Tukuria, and Enamul Haque Shamim of Chatra said the hailstones caused more damage to their localities than the storm itself.
Eight people were admitted to Pirganj Upazila Health Complex.
The speed of the tornado was 60-65 km/hr, according to assistant meteorologist Mohammad Ali.
In Sylhet, 45-year-old Sabea Begum was killed when she went to visit a relative who lived in Osmaninagar upazila. A tin roof of a building was torn off by the strong winds and slit her throat.