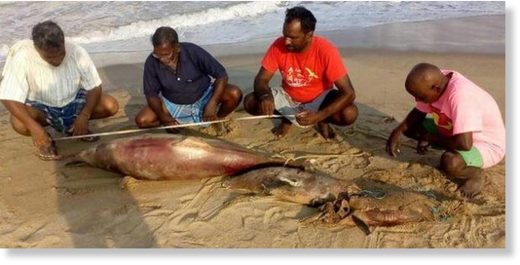 Five spinner dolphins were found dead at three fishing villages to the south of Kalpakkam, on Monday.
R. Sarveswaran and R. Deivasundaram, residents of the Uyyali Kuppam village and members of the Sea Turtle Protection Force, found three dolphins washed ashore around 5.30 a.m.
"We suspect that the dolphins got entangled in a fishing net used in steel body boats from Cuddalore districts.
No injuries
The dolphins did not have many distinct injuries which is why we suspect that they could have got caught in the net and drowned," said Supraja Dharini, managing trustee of the Tree Foundation.
Two more spinner dolphins were found dead at Sadras Kuppam and Cuddalore Chinna Kuppam as well, later in the day.
Members of the Sea Turtle Protection Force said they had found a dead dolphin on Sunday at Sadras Kuppam and another dead dolphin at Nainar Kuppam earlier last week as well.
"Totally, seven dolphins were found dead in the last four days.
It is possible that the five dolphins which were washed ashore today got caught in the same net and drowned but we still need to ascertain the exact reasons," Ms. Dharini added. Spinner dolphins are characterised by their long thin beaks and dark eye-to-flipper stripes.