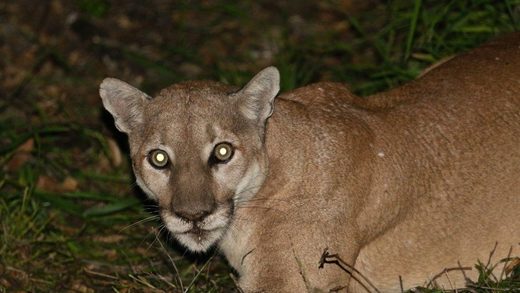 They are suspected of making off with a small dog in Pescadero. They're being blamed for mysterious sheep deaths in Sonoma County. And local outdoors writer Tom Stienstra even found one lurking outside the back door of his Northern California house the other day.
They're mountain lions. And
lately they seem to be making a ton of cameo appearances all over the Bay Area and up and down the state
. Here's a local listing of where the animals have been spotted or at least have been suspected of showing up, sometimes to the alarm of ranchers, wildlife officials and panicked pet owners.
On the Prowl in Pescadero
Residents in and around this sleepy coastal burg have been on edge in recent days as county officials are warning the public there may be an aggressive mountain lion in the area. Over the weekend, a resident in the 5000 block of Pescadero Creek Road let their small pet outside the home around 9 p.m. Saturday. A short time later, the resident reportedly heard the pet yelp and it has not been seen since.
County officials said that while they can't positively confirm that it was a lion that snatched that particular pet there have been reports recently of an aggressive lion in the same area that has killed livestock. Officials cautioned residents to keep a sharp eye on their pets and any livestock in their care, especially late at night and early in the morning.
Pescadero residents, of course, are not strangers to the wild puma. Last April, a mountain lion entered a house at night through an open door, snatched a resident's dog and carted it off. DNA from a drop of dog blood found near the home was later confirmed to contain epithelial cells from the big cat's saliva. "The blood was apparently the only physical trace left by the animal intrusion and presumably belonged to the 15-pound Portuguese Podengo that disappeared," wrote this newspaper's Robert Salonga.
Fear Near Sonoma's "Little Slice of Heaven
"
In the getting-too-close-for-comfort department,
the large cats have been reported in the vicinity of the historic Penngrove Elementary School
where the bench out front bears this carved message: "A Little Slice of Heaven."
Residents in this bucolic hamlet of 2,500 wedged in between Cotati and Petaluma have been calling authorities in the past few days to report what they believe is a mountain lion in their neighborhood. The fact that
some sheep deaths have also been reported
has fueled fears for some in the rural area.
Officials from Sonoma County Animal Services and the California Department of Fish and Wildlife were called out but investigators could not confirm whether a mountain lion was, in fact, roaming the local ranches. That did not calm the nerves of locals who reportedly saw the large cats near the grade school and then passed on reports over the social-media site Nextdoor.
"Animal Services staff have not verified mountain lion sightings or the cause of reported livestock injuries," Sonoma County's Department of Health Services Interim Public Information Officer Andrew Leonard wrote in an email to the Argus-Courier.
"Staff have responded multiple times to related calls, including reports of a dead sheep on a Penngrove property Feb. 23," said the paper, "but there was no way to verify how the animal died as it had already been 'visited by vultures,"' as Leonard put it.
A Two-fer in Boulder Creek
Santa Cruz Mountains resident Ben Slaughter saw two lions for the price of one earlier this month wh
en he captured two of the puma playing outside his bedroom window at his home near Boulder Creek
. He told KPIX that they "just looked like two house cats playing. It wasn't super aggressive."
Slaughter said he woke up in middle of the night to the sound of his dog growling. He looked outside his window - and immediately saw what was bugging his dog.
"My jaw dropped. I was not expecting that looking out my curtain," explained Slaughter. "I was thinking it was the neighbor's dog or some cats running around or a raccoon. But it was totally different; it was two mountain lions."
Possible Pumas Among the Eichlers
A mountain lion was spotted the other day in Eichler Highlands in San Mateo County
, one of the most architecturally historic pockets of the entire Bay Area. Officials with the county said that the cat was seen at about 3:30 p.m. Saturday in the 1800 block of Randall Road. Officials said the animal was not aggressive and that it ran away when it saw people nearby.
A subsequent search of the area turned up no sign of the cat. The Highlands subdivision constitutes the largest contiguous Eichler development anywhere, with more than 700 of the renowned homes built over an 11-year period from 1955 to 1965. If the mountain lion is still around, it's been prowling through a neighborhood with chock full of classic examples of the work of all the main Eichler architects: Anshen & Allen, Jones & Emmons, and Claude Oakland.
Wildlife Lover Sees Wildlife Up Close and Personal
Tom Stienstra, a radio personality and guidebook author whose columns about the state's great outdoors have been a fixture in the San Francisco Chronicle for nearly four decades, has his very own personal story about a mountain lion.
This
one, weighing in around 200 pounds, recently staked out Stienstra's backyard at his Northern California home
near Weed where he lives these days.
"The King of the Forest showed up at our door last week," he wrote. "On a cold, dark and quiet evening, the biggest mountain lion I've ever seen, roughly 200 pounds, staked out our home. In the Bay Area and Northern California, anybody who lives with their house backed up to greenbelt, near parks or in rural areas, has a chance for a similar encounter in the next few months."
Stienstra said he spotted the cat around 6:45 p.m. on Sunday when his wife, whom he described as "about half the size of the lion, was putting the final touches on a garlic chicken stir-fry dinner, with her movements visible through a back window. One of our cats, Calvin, an orange fluff-ball of a puddy cat, was tense and edgy, and peered out a window with bright yellow eyes wide, his stare a laser."
That was their big clue. "The big lion walked up," Stienstra wrote, "his eye catching the movement in our house, and then settled into his haunches to watch the action. He stared at the back of our house, where our cats often peer out the windows and glass sliding doors to watch birds and squirrels."
The next morning, the couple spotted the cat's calling card: "Giant mountain lion paw prints on our deck. By the size of the prints and the route across the deck, it appeared that a mountain lion had walked right up to the glass door, peered inside our front room where the cats sleep, and then walked across the deck to the backyard."