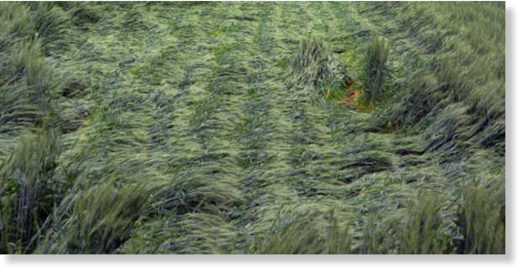 Four persons died and half-a-dozen were injured when lightning struck them in the state on Sunday.
Hailstorms accompanied by rainfall lashed many parts of the state damaging rabi crops, including wheat, mustard and masoor.
Caught unawares as the local office of Indian meteorological department had not issued any warning of inclement weather, Baniya Kushwah ,Chiddi Kushwah, both from Morena, Inder Singh Jatav (Bhind) and Moti Kushwah from Dabra in Gwalior died after the lightning struck them in the morning.
Talking to
TOI,
family of Chiddi said, "He was irrigating the farm when suddenly the weather turned bad. A thunderstorm was followed by lightning, hailstorm and rainfall." Atleast half-a-dozen people sustained injuries in Tikamgarh, Damoh and Dewas districts. All the injured have been admitted to hospital.
Heavy rainfall and hail storm were also reported from the regions located on the banks of Narmada like Dewas, Sehore, Harda and Hoshangabad. In Nasrullaganj tehsil of Sehore, 100% crops were damaged, said Mayank Patidar, a farmer. Rajesh Jat, another farmer in Kannod village of Dewas, said:
"Hail stones of different sizes flattened the crops in Kannod, Khategao and Satwasa, all along river Narmada".
He said standing crops of wheat, masoor and chana have been badly damaged. "Crops have been ruined and farmers have suffered extensive losses.
Dewas district collector Ashish Singh said, "Directives have been issued to assess the damage". Similar damage to crops has also been reported from western Madhya Pradesh too. In Gwalior and Chambal divisions, standing crop of mustard has been 'severely damaged', farmers said.
Shyamlal Mina, a young farmer in Sheopur, said: "Standing crops of mustard was ready to be harvested at several places, They have been severely damaged. The farmers were still recovering from drought when a new crisis has struck them."
Minister for agriculture Gaurishankar Bisen said, "Assessment of crop damage has already begun. We will start taking action as soon as the reports are submitted. Farmers will be compensated according to revenue book circular (RBC)".