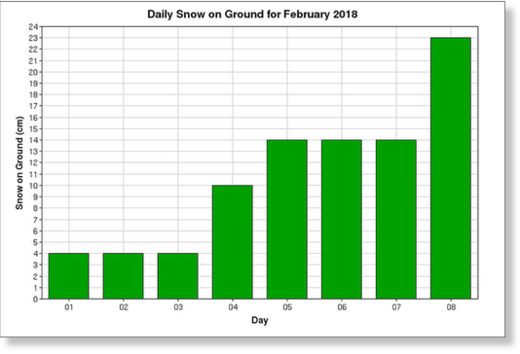 Calgary, you might need a little time to process this...
For this time period in February you have the most snow on the ground ever recorded—and in such an arid climate,
it's a true feat to exceed 30 cm of snow on the ground for this region.
The city is facing similar amounts of snowfall to the September 2014 super-snowfall (30+ cm) which brought numerous power outages and crippled the city for several days, but in much more manageable portions.
These consecutive systems are really beginning to add up. In fact, Thursday was the snowiest single day recorded in Calgary since this massive event back in September 2014.
Truly amazing snowfall rates were recorded in a process called mesoscale banding, which brought tight pockets of higher lift and better dynamics for making snow directly over the city of Calgary. The potential for these convective bands were sniffed out ahead of time:
The pattern coming together over #ABwx Wednesday/Thursday is similar to what occurred over the past weekend. A strong jet will push out over a tight frontal zone as a moisture laden low tracks through BC. Widespread snow will develop but convective bands are expected. pic.twitter.com/hNIMK1KKPg

— Brad Rousseau (@bradrousseau) February 6, 2018
As Brad stated, the exact convective bands couldn't be forecast with precision, but undoubtedly ended up directly over the City of Calgary on Thursday. The current snowpack just surpassed 30 cm at YYC (not reflected in the Environment Canada graph yet), but we'll need a few more centimetres before the 11th to keep the crown. On February 11th, 1978 Calgary International airport saw an incredible run of snow. From February 11th to the middle of the month nearly 40 cm of snow accumulated on the ground nearly 40 years ago.
What's up next?
A fresh arctic front will push across the region on Saturday, but expect all snowfall totals to be under 5 cm for the region. The front is moisture-starved and lacking the Pacific moisture and energy that has been prominently featured the past couple of systems.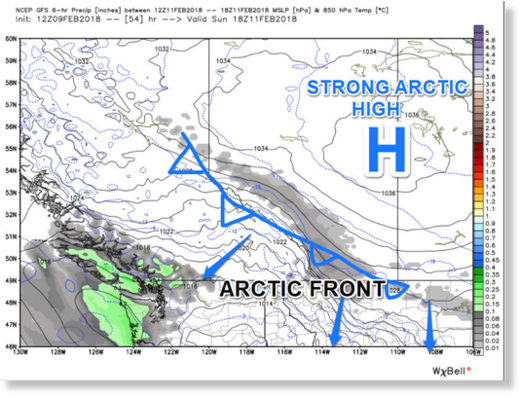 During the middle of next week, a more significant snow event is possible with pockets potentially exceeding 10 cm, but low confidence for those amounts at this time. The system will have a little more Pacific moisture from the Gulf of Alaska with it, and some of that will migrate across the Rockies on Wednesday.
Winter isn't over yet, Calgary, but the snow drought certainty is. Latest indications show below seasonal air migrating and pushing through the Prairies for the 2nd half of February.