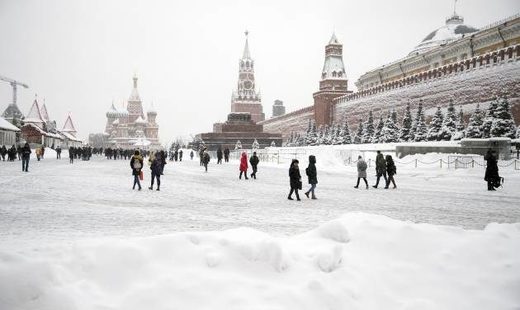 Muscovites took to social media on Wednesday to share pictures of how their city turned white with snow overnight.
Forecasters say Moscow's snowfall
hit
a half-century record of
38 centimeters on the last day of January, causing massive flight delays and disruptions of the public transportation system
.
But the biggest problem yet is for commuters who chose not to call in sick to defy massive snowbanks on the way to work. Let's hope there is enough fuel in the snow-clearing tractors to deal with what's to come.
NewsOK reports:

According to forecasts snowfalls and blizzard will continue in Moscow through the next several days with temperatures dropping down to -8 during the day and -13 at night.
Comment:
Record breaking weather is being documented around the world and,
contrary
to the mainstream narrative, we're seeing signs of serious cooling: