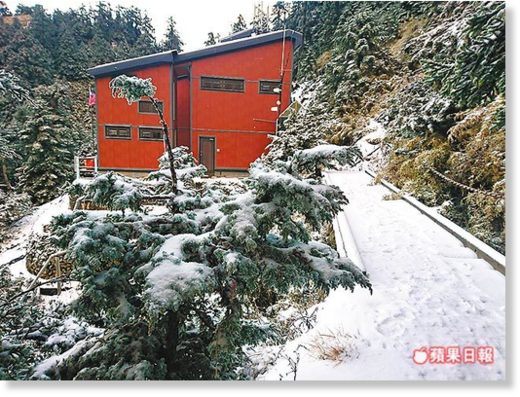 Frigid temperatures kill 53 in Taiwan, more possible deaths feared as mercury set to plunge further this weekend
As the latest cold wave blasts Taiwan causing temperatures to plummet to 10 to 12 degrees Celsius in all parts north of Tainan, 53 people have lost their lives to the bitter cold weather yesterday (Jan. 30), but
more lives are at risk as an intense cold surge is set to arrive on Saturday
, reported
Apple Daily.
The Central Weather Bureau (CWB) predicts that as the current cold air wave is combined with another cold air mass that arrives from the north in the evening, central Taiwan and all areas north could dip down to 10 degrees tonight.
Weather experts say that the cold weather of the past couple days is just an "appetizer" for the much colder weather yet to come.
A major cold surge is set to strike Taiwan from Saturday through Tuesday, causing the mercury in all points north of central Taiwan to drop down to 6 to 7 degrees. During this period, Hehuanshan, Taipingshan, Lalashan, Qixingshan, and Datunshan are all likely to see snowfall.
Under the affects of the current cold air mass, Taoyuan's Xinwu District registered a record low of the winter thus far of 10.7 degrees Celsius yesterday morning. Meanwhile, Yushan saw two centimeters of fresh snowfall and Yushan's Paiyun Lodge saw five centimeters of snow.
After the new cold air mass arrives this evening, temperatures tomorrow and Friday will again drop down to 10 to 11 degrees from central to northern Taiwan. Starting on Saturday, as a major cold surge arrives, central to northern Taiwan will see the mercury plunge to 8 degrees, and open areas could see the temperature drop to as low as one to two degrees, with no respite from the chilly weather expected until Wednesday.
As for precipitation, the CWB predicts that all of Taiwan will see scattered showers on Thursday, while on Friday central to southern Taiwan will see partly cloudy to clear skies. However, northern and eastern Taiwan will see more moisture and due to the strength of the coming cold surge, mountainous areas with an elevation above 1,000 meters are likely to see snow, including Qixingshan and Datunshan from Saturday until Monday.
Meteorologist Wu Der-rong said that the strength and scale of the coming "slow cold surge" is much greater than the current cold wave afflicting Taiwan, and that the past two days were just an "appetizer" of what is to come later over the weekend. He advised everyone to take precautionary measures to stay warm during this period.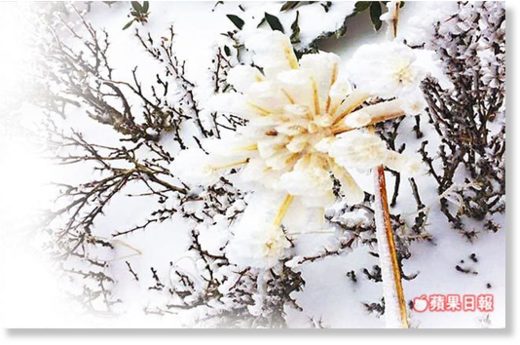 The drop in temperatures can cause an increased likelihood of sudden death, with 53 deaths attributed to the cold wave in Taiwan yesterday alone. Taipower Penghu District Director Kuo Tsai-li, reported feeling discomfort yesterday and on the way to the hospital, he suddenly died. Whether his death was related to the bone-chilling winds currently blowing through Penghu has yet to be determined.
Taipei Medical University Director of Critical Care Medicine Kao Wei-feng told
Apple Daily
said that 95 percent of sudden deaths brought on by cold weather are related to heart ailments. Cold temperatures increase the possibility of high blood pressure, myocardial infarction, and heart failure. Kao advised those at risk individuals experiencing unusual chest tightness, chest pain or upper abdominal pain to seek immediate medical attention.
Kao also advised people to keep extra layers of warm clothes close by the bedside and to wear them immediately when waking up. When going out, Kao advised people to wear a scarf and a long coat.