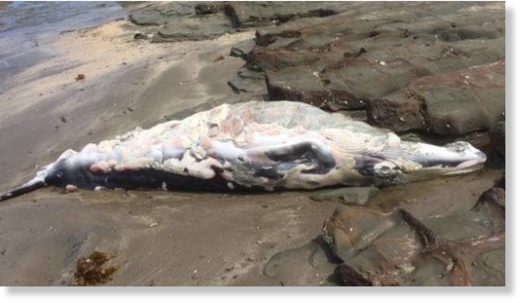 The body of a dead and partially decomposed whale has been disposed of at sea after washing up on an Auckland beach.
Beachgoers alerted surf lifesavers of the gruesome sight at Murrays Bay, on the North Shore, just after midday on Saturday.
Lifeguard Spencer McGarry inspected the body at 1.30pm.
He suspected it was a dead minke whale.
"[It was] possibly killed by an orca and had a few shark bites on it too."
Whale Rescue's Joanne Halliday agreed.
​"Fairly sure it's a minke [but it is] quite decomposed . . . [it] looks like sharks have very much been feasting."
McGarry said members of the public were very interested, "asking lots of questions and taking photos".
He knew it was time to get rid of the body when it started to smell.
The Department of Conservation disposed of the whale in the evening, he said.
In late 2017, an orca and her calf were spotted swimming at Murrays Bay, delighting onlookers.