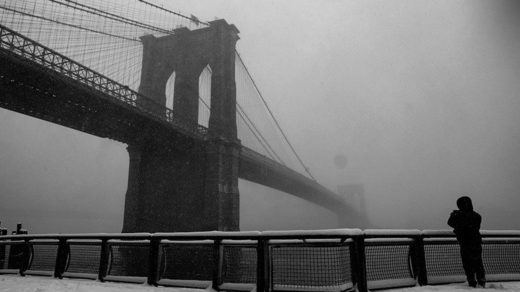 Thousands of New Yorkers were left in the cold as parts of the city were blanketed under more than a foot of snow. All inbound and outbound flights at JFK and LaGuardia airports were temporarily suspended.
Winter Storm Grayson hit New York City hard Thursday, causing more than 6,500 New York City Housing Authority (NYCHA) apartments to lose power. Six NYCHA developments, which house more than 15,000 people, all lost heat, hot water, or both at some point, according to
New York City Patch
.
At a
press conference
Thursday, NYCHA General Manager Michael Kelly said New York City Mayor Bill de Blasio directed the agency to establish an incident command situation desk to offer real-time access for residents to report outages.
De Blasio declared a
Winter Weather Emergency
during the news conference, emphasising Grayson is a
"a very serious storm"
and warning residents to stay indoors.
"I want to emphasize to everyone these are a very, very dangerous conditions. So this is where New Yorkers have choices to make and I want people to make the smart choices. Stay inside if you can. If you do not need to be on the roads, don't be on the roads,"
de Blasio said.
New York Governor Andrew Cuomo (D) also declared a
state of emergency
across New York City, Long Island and Westchester Thursday.
More than 1,500 plows were deployed to clear the roads, but de Blasio said residents should not expect
"to see pavement on the roads in the short term."
The city temporarily closed the
Holland Tunnel
and
Lincoln Tunnel
traffic to New Jersey for snow removal and salting. Both tunnels were later reopened, but residents were advised there may still be residual delays.
The National Weather Service (NWS) told de Blasio the city experienced an accumulation of one to two inches of snow an hour. With the wind chill, the temperatures outside felt like negative 20 degrees.
Parts of Queens County received more than 13 inches of snow and sustained winds of more than 40 miles per hour Thursday, according to the
National Weather Service
. All public schools were closed Thursday, but will reopen Friday, de Blasio said.
The mayor suspended the New York City Ferry Service, which he said should be up and running by Friday morning.
Both LaGuardia and JFK International airport temporarily suspended all inbound and outbound outbound flights Thursday, citing strong winds and low visibility. Flights are
expected
to resume at JFK Friday at 7:00am local time.
All flights have resumed at LaGuardia. However, travelers were
urged
to contact their airlines and check on the status of specific flights.
In total, there were 4,385 flights within, into, and out of the US canceled Thursday, according to
FlightAware
.
While the storm caused disruptions and misery for many, Twitter was packed with videos and images of New Yorkers playing in the snow.