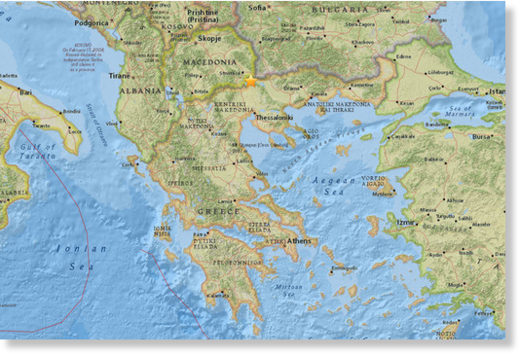 Seven quakes have struck northern Greece in less than 24 hours near the Brit holiday hotspot Thessaloniki.
The biggest one hit around 75km away from the tourist haven at 6.24am this morning (4.24am UK), measuring 5.0 magnitude.
It left buildings shaking as locals reported it being "scary", "loud and noisy" and "lasting about 6 seconds".
People in neighbouring country Republic of Macedonia also felt the quake.
Experts are now warning Greeks not to enter old buildings amid fears they will collapse.
They are also warning more quakes are likely to hit in the next 24 hours, and potentially a major one.
Professor of Seismology of the Aristotle University of Thessaloniki, Kostas Papazachos, told local media: "From our experience we find that the earthquakes will not stop immediately.
"There will be an evolution of activity.
"We are cautious in the early hours."
He added: "We are dealing mainly with East-West fault, fault that defines Mount Beles to the south, fissures that are triggered and give us these little earthquakes.
"I think that this phenomenon will continue for at least 1-2 days because if we look behind us and see the seismic history of the area, we will see that we are dealing with an area that gives such earthquakes, such sequences and we assume that now the situation develops."
The 5.0 magnitude hit after a wave of tremors from around midnight left buildings shaking, measuring 3.9, 3.5, 3.0 and 3.6 on the Richter Scale.

The biggest one was then followed by another two quakes, one measuring 3.2 at 6.28am local time and 2.3 at 8.26am.
Greece is prone to earthquakes as the mediterranean country sits in a box of fault lines.