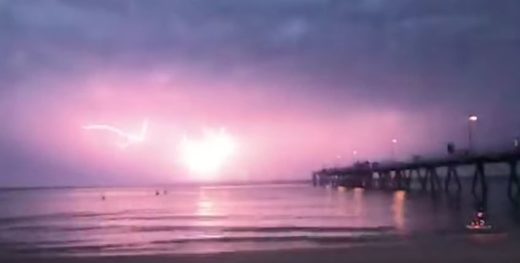 If you needed proof that nothing quite manages to compare with the power of nature, one Adelaide local has provided it, capturing dazzling footage of so-called "spider lightning" over a suburban beach.
The video - shot by Adelaide man Caleb Travis and uploaded to YouTube - shows lightning illuminating the sky over Glenelg.
The lightning leaves a lasting trace as it forks and snakes across the sky, and was filmed during Monday night's thunderstorms over the city.
The Bureau of Meteorology said two lines of thunderstorms moved across Adelaide on Monday night, and more than
280,000 lightning strikes were recorded over 24 hours
around the state and over coastal waters.
"
We wouldn't see that very often
. It was a pretty dynamic system as it moved across so it was
electrically active for a long period of time
," senior forecaster Vince Rowlands said.
"Sometimes we'll see thunderstorms kick off over inland parts and they ... develop in the afternoon and die off in the evening so you don't get a large number of strikes.
"[But] this kept going for a long period of time."
The footage was captured close to
the spot where a teenager tragically drowned hours earlier at Glenelg jetty
.
"Spider lightning" is not a technical term but "refers to the way the lightning basically crawls across the sky", Mr Rowlands explained.
"We have two types of lightning - cloud-to-ground lightning, and cloud-to-cloud lightning.
"[The latter] is not your typical lightning that goes straight down to the ground - it's more contained within the cloud structure itself."
Another video shows a similar effect from a slightly different perspective.