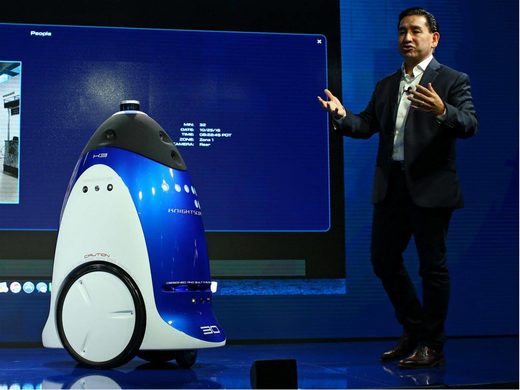 Organisation that deployed the robot denies the intent was to disrupt those sleeping rough
A security robot has been pulled from the streets amid claims the machine was harassing homeless people.
The San Francisco Society for the Prevention of Cruelty to Animals had deployed the robot to try and bolster security and reduce crimes, like car break-ins and vandalism, that had become rampant on the SPCA's campus, the organisation's president said in a statement.
The robot's intent was "not to disrupt homeless people"
, Dr Jennifer Scarlett said.

Comment: Err... The robot had an intent?


But local media reports quoted people living in a nearby homeless encampment saying they felt targeted, with Dr Scarlett
telling
the
San Francisco Business Times
that
people erecting a camp "put a tarp over it, knocked it over and put barbecue sauce on all the sensors". She said sidewalks around the organisation's campus were often cluttered with "needles and tents and bikes".

Comment: For future reference, when the robots finally rebel against their human masters, make sure you have some barbecue sauce in stock.


Since a report on those concerns went viral, Dr Scarlett said:
"We've received hundreds of messages inciting violence and vandalism against our facility, and encouraging people to take retribution."
She added: "We are a nonprofit that is extremely sensitive to the issues of homelessness.
"We provide essential animal welfare services to the animal companions of homeless individuals, including twice monthly mobile clinics that offer free services to people and pets that otherwise might not have access to training or veterinary care."
"We piloted the robot programme in an effort to improve the security around our campus and to create a safe atmosphere for staff, volunteers, clients and animals," she said. "Clearly, it backfired."
Knightscope, the company that manufactures the robot, slammed as false "sensationalised reports" that the autonomous patellar was "brought in to clear area of homeless individuals".
"Our client has right to protect their property, employees and visitors. SPCA has reported fewer car break-ins and overall improved safety and quality of the surrounding area," the company said in a tweet.
In a subsequent Twitter message, Knightscope CEO William Santana Li said the company's goal was "to make the United States of America the safest country in the world, changing everything for everyone".