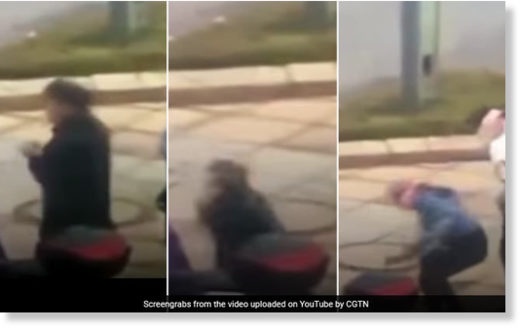 Shocking surveillance footage captures the exact moment a man plunges into a sinkhole that opens beneath his feet on a paved footpath on Thursday in southeastern China.
Footage from two separate CCTV cameras shows the moment an unsuspecting pedestrian disappears into the sinkhole in Jiangxi Province's Nanchang.
Video posted online shows the pedestrian, who was with three friends on the footpath, getting ready to cross the road. Suddenly, the man disappears from sight as the footpath caves in. His friends are left stunned. A number of passersby rush over to offer assistance as the victim's shocked friends reach out to help him out of the sinkhole.
According to
CGTN
, a number of paving stones gave way, sending him plunging into the sinkhole.
Fortunately, the man eventually emerged relatively unscathed, with a few minor cuts and bruises.
In October, a
Rolls-Royce Phantom car plunged head-first into a six-foot-deep sinkhole
in the middle of a road. The incident took place in Harbin, the capital city of China's northeastern Heilongjiang province.
Though the owner of the luxury car managed to escape unharmed, the Rolls-Royce Rolls-Royce was worth about 5 million yuan, or Rs. 5 crore, was left damaged.