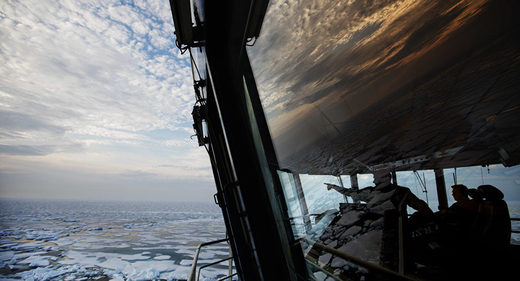 An international deal among arctic shore countries was reached last week to prevent commercial fishing in the Arctic Ocean for at least 16 years.
"Canada has reached an historic agreement in principle today in Washington, DC to prevent unregulated commercial fishing in the high seas of the central Arctic Ocean," Canada's Fisheries and Oceans Minister Dominic LeBlanc wrote in a Thursday statement, the Star reported.
"It's the first time an international agreement of this magnitude has been reached before any commercial fishing takes place on a region of the high seas."
The five nations with Arctic coastlines that signed the agreement include Russia, Norway,Iceland, Greenland, Canada and the United States, and the treaty also includes China, Japan, South Korea, the European Union and Iceland. There were also Inuit representatives from three countries, including Canada, at the negotiating table.
"It's heartening to see
Arctic
and non-Arctic countries come together on conservation measures for the future of the Arctic Ocean," Herb Nakimayak of the Inuit Circumpolar Council Canada said.
"The agreement explicitly calls out the importance of considering Indigenous people's knowledge and the importance of our role in the Arctic," he added.
The agreement will last for 16 years and be renewed every five years thereafter. It applies to Arctic seas at least 200 kilometers from the coastline of the signatory nation. Even though no commercial fishing currently exists in the region, fish are moving north due to global warming as a result of climate change.
"This [the agreement] is getting ahead of the curve and preventing a problem," according to Scott Highleyman of the Ocean Conservancy group.
"For the first time, nations have gotten together and said let's prevent the start of unregulated fishing and actually do a joint program of science so we can figure out what's out the. Now, let's get that joint program of science going. It shows that the Arctic is still a place for cooperation."