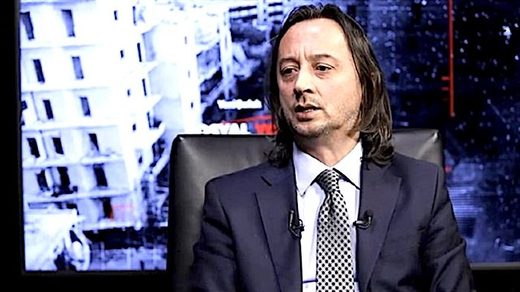 Yeni Şafak daily and TVNET Editor-In-Chief İbrahim Karagül assessed developments throughout the U.S., Middle East and Europe in an online discussion shared on social media platforms on Thursday.
"The U.S. wants to get its hands on the money in banks in the Gulf,"
said Karagül during a program with Yeni Şafak's Digital Publications Manager Ersin Çelik that was posted on Facebook, Twitter and Instagram. "The greatest bribery and corruption in the world is in the U.S.," he added.
Foreign threats to Turkey
Karagül also discussed ongoing regional projects that aim to split Turkey and the Middle East. "There is a project to dismantle this region. There are plans to divide Iran, Iraq, Syria, Turkey and the Middle East.
Those who oppose these plans are being targeted,"
he said.
"Daesh is made to look Islamic, but it operates entirely under the command of Israeli and American intelligence. Saudi Arabia is referring to Israel as an ally.
This project is being conducted not on religion but on power balances.
The PKK and PYD are external threats. So is FETÖ," Karagül added.
Opposition leader part of a foreign axis
The editor-in-chief slammed Turkey's main opposition Republican People's Party (CHP) leader Kemal Kılıçdaroğlu. "Kılıçdaroğlu has taken the side of the foreign axis," Karagül said,
hinting that the CHP leader had become an issue of national security.
Kılıçdaroğlu alleged that President Recep Tayyip Erdoğan had offshore accounts, claims Erdoğan vehemently denies. Erdoğan said the CHP leader was "telling lies," adding that he would take Kılıçdaroğlu to court.
"Incidents in Iran are the work of U.S. intelligence.
This will be revealed when the Reza Zarrab file is examined. But this is an economic attack on Turkey. We are faced with a foreign intervention.
They are operating with the CHP.
Kemal Kılıçdaroğlu was probably made to lead the CHP for these scenarios," Karagül said.
"Kılıçdaroğlu is the domestic partner of the economic coup attempt.
This must be accepted. He's trying to confuse minds. Kılıçdaroğlu also has other material that he will share in stages. They [CHP] are working with the FBI," he added.