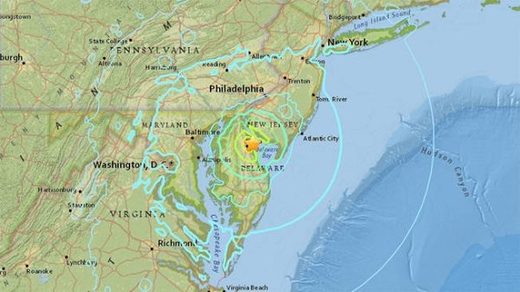 A 4.1 magnitude earthquake has rumbled the Philadelphia region Thursday afternoon.
The United States Geological Survey says the tremor struck along the Delaware Bay near Dover, Delaware. It's a short distance north of the Dover Air Force Base.
The quake was shallow with a depth of 5 miles. It was first recorded with a magnitude of 5.1, but was revised to 4.1 around 5:10 p.m.
We've received reports of shaking from residents all over the region including Philadelphia, Atlantic City, Wilmington and the surrounding suburbs.
There are no reports of injuries or damage at this point.
The last significant earthquake to rumble the East Coast happened in August 2011. That quake was centered in Virginia and left damage from Washington, D.C. to Philadelphia.