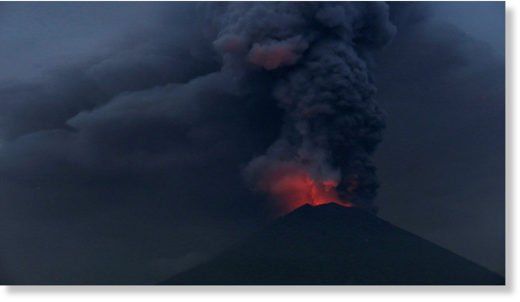 Volcanoes pose a greater threat to humanity than first thought
,
with Earth scientists in the UK reporting that super-eruptions are historically more frequent than previous data revealed.
Analyzing volcanic activity within the last 100,000 years, researchers from the University of Bristol revised the timeline for super-eruptions, which can produce around 1,000 gigatons of erupted mass.
The
Yellowstone
Caldera in Wyoming is classed as one such supervolcano, which could emit sustained pyroclastic eruptions with climate- and life-changing results.
The
new study
from Bristol scientists, published in the
Earth and Planetary Science Letters
, suggests large, catastrophic eruptions are most likely to happen every 17,000 years.
It's a significant revision from a 2004 estimate, said Jonathan Rougier, of the University of Bristol.
"The previous estimate, made in 2004, was that super-eruptions occurred every 45-714 thousands years, comfortably longer than our civilization. But in our paper just published, we re-estimate this range as 5.2-48 thousand years, with a best guess value of 17,000,"
he said
.
And the two most recent ones came 30,000 to 20,000 years ago.
"On balance, we have been slightly lucky not to experience any super-eruptions since then. But it is important to appreciate that the absence of super-eruptions in the last 20,000 years does not imply that one is overdue. Nature is not that regular."
He added:
"What we can say is that volcanoes are more threatening to our civilization than previously thought."
In 2014, the US Geological Survey warned that if the massive volcano at Yellowstone National Park were to boil over, cities nearly 300 miles away would be covered in up to three feet of ash.
Although the supervolcano has not erupted for approximately 640,000 years, the 240 cubic miles of pyroclastic material potentially released by such an event would have dire consequences for the environment.