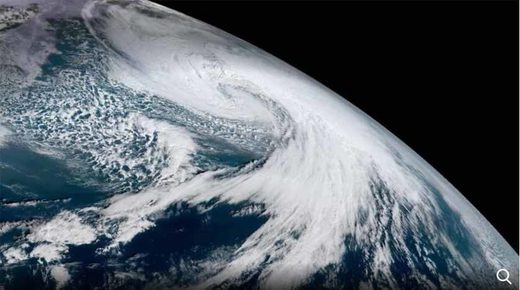 A rapidly intensifying storm has brought wind gusts in excess of 90 mph to Alaska's Aleutian Islands this weekend while also presenting spectacular views on satellite imagery.
The storm easily met the criteria for what
meteorologists call bombogenesis
, which is an atmospheric pressure drop of 24 millibars in 24 hours. In general, a lower atmospheric pressure correlates with a more intense low-pressure system.
In the case of this weekend's storm,
the pressure dropped an incredible 55 millibars in 24 hours
(
1002 millibars 10 p.m. Friday Alaska time to 947 millibars 10 p.m. Saturday Alaska time
). The pressure reading continued to drop and was at 944 millibars as of early Sunday,
making it the strongest storm on Earth based on pressure at that time.
Winds gusted up to 92 mph and 91 mph at Atka Island and Adak Island, respectively, as the storm swept into the Bering Sea late Saturday into early Sunday. The
winds on Atka Island
gusted in excess of 70 mph at least once per hour for 12 consecutive hours (11 p.m. Saturday Alaska time to 11 a.m. Sunday Alaska time).
The National Weather Service said
waves up to 50 feet
were expected to accompany the storm and peak wind gusts could be up to 120 mph in a few spots.
No impacts have been reported in the Aleutian Islands as of this writing.
Through Monday, the storm system is forecast to weaken over the Bering Sea, but another area of low pressure may undergo bombogenesis and strike the Aleutian Islands on Tuesday at a similar intensity to this weekend's storm.
Here are some additional stunning satellite images of the powerful Bering Sea storm.