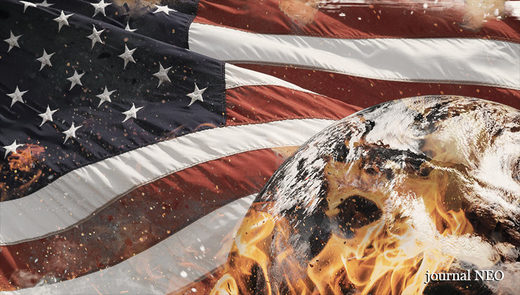 The planet is nervous these days, according to a massive new survey titled "What Worries the World," conducted among 21,044 citizens in 26 nations by
IPSOS
Public Affairs.
In a majority of these nations - 19 of them, including the U.S. and its European allies - people say their own country is "on the wrong track."
Only seven of the nations had a positive assessment.
"China, India and Saudi Arabia remain as the top three countries most positive about their nation's direction of travel. 92 percent in China think their country is going in the right direction, along with 74 percent in India and 72 percent in Saudi Arabia," the poll analysis said. "At the other end of the spectrum - South Africa is the most anxious. Only 8 percent think their country is going in the right direction, followed by 15 percent in Italy and 16 percent in Brazil."
Among Americans, 59 percent say the U.S. is on the wrong track, with strikingly similar negative findings from respondents in Australia, Poland, Sweden, Israel, Japan and Germany.
Things are even more dire in Spain, where three-quarters say things are out of kilter, along with Mexico (73 percent), Britain (72 percent) and France (71 percent).
The global average? After averaging the wide-ranging spectrum of findings,
IPSOS
concluded that
59 percent of the world's population is nervous about the status quo.
The pollster also flagged some specifics.
Overall, unemployment tops a list of 17 worrisome factors, cited by 35 percent of the respondents in all 26 nations. Financial or political corruption was in second place,
cited by 33 percent, followed by poverty (32 percent), crime and violence (30 percent), health care (23 percent), terrorism (21 percent), education (20 percent), taxes (16 percent), moral decline (15 percent) and immigration control (14 percent)
- to round out the top 10.
Worries varied among the nations, however. In China the top concern was environmental threats. In the U.S., Canada and Britain it was health care. In Russia, Brazil, India, Israel and South Africa, corruption was the biggest worry; in Sweden, Argentina, Mexico and Peru, it was violence. Terrorism was most cited by Turkey and Belgium. Seven nations - Australia, France, South Korea, Serbia, Spain, Saudi Arabia and Italy - cited unemployment, while Japan and Germany cited poverty.
No nation cited access to credit, childhood obesity, taxes, inflation, climate change, education or extremism as its No. 1 worry.