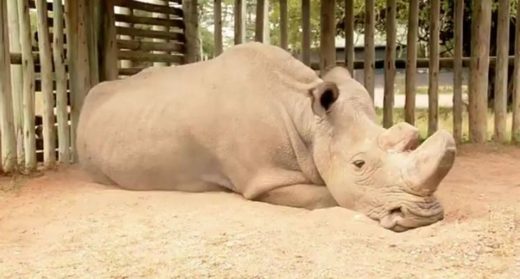 A biologist has shared a heartbreaking picture of the last male northern white rhino asking people 'want to know what extinction looks like?'.
There are two female northern white rhinos that are still alive but time is running out for their species.
Efforts have been made to raise money to pay for breeding the animals as
they can no longer do so naturally.
Ol Pejeta Conservancy put an advert on Tinder and if people matched they were directed to a link where they could make a donation.
After posting the picture on Twitter, biologist Dan Schneider received lots of requests for information.
He directed people to the
Helping Rhinos
charity which is trying to ensure the long-term survival of rhino and other endangered wildlife.
Sudan's ivory horn was removed to
deter ruthless poachers who have wiped out his ancestors
and sold their horns for vast sums of money in Asia.
Some believe that ivory from a rhino can cure several ailments.
Elodie Sampere of the conservancy said: 'The only reason his horn has been cut off is to deter poachers. 'If the rhino has no horn, he is of no interest to them. This is purely to keep him safe.'
Simor Irungu, one of the rangers who guards Sudan, says the team regularly risk their lives to keep him safe.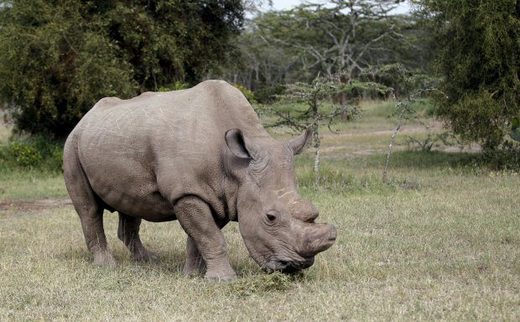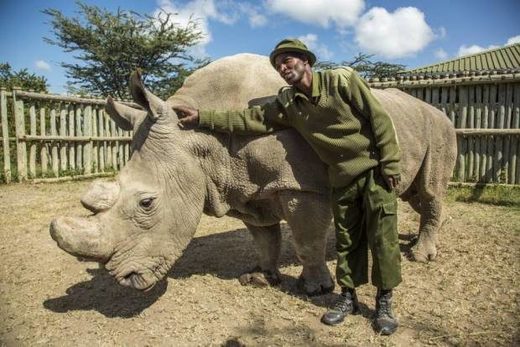 He said: 'With the rising demand for rhino horn and ivory, we face many poaching attempts and while we manage to counter a large number of these,
we often risk our lives in the line of duty.'
Sudan and came to the conservancy from a zoo in the Czech Republic in 2009, with the hope of breeding the rhinos in a climate and environment more natural to them.
However, no baby rhinos had been born and the other male in the group, named Suni, died in October 2014 aged 34, leaving Sudan and two other females left.