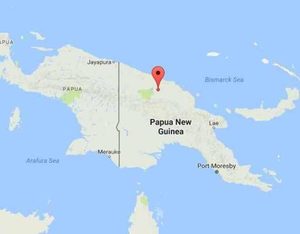 A strong earthquake with a preliminary magnitude of 6.5 struck the mainland of Papua New Guinea on Wednesday morning, seismologists and residents said, but there were no immediate reports of serious damage or casualties.
The earthquake, which struck at 7:26 a.m. local time on Wednesday, was centered about 67 kilometers (42 miles) southwest of Angoram, which is located in East Sepik Province in the country's northwest. It struck at a depth of 66 miles (107 kilometers), making it a relatively deep earthquake.
The U.S. Geological Survey (USGS) put the preliminary magnitude of Wednesday's earthquake at 6.5, down from an initial estimate of 6.6. It said the earthquake was likely felt across the region, possibly as far away as the Indonesian part of Papua.
Computer models from the USGS estimated that as many as 6.9 million people could have felt the earthquake, including 236,000 people who may have experienced "moderate" shaking. "There is a low likelihood of casualties and damage," the USGS said.
Because the earthquake struck on land, there is no threat of a tsunami.
Earthquakes in the mountainous nation of Papua New Guinea, which is on the so-called 'Pacific Ring of Fire', do rarely cause damage or casualties as most structures in the region are light and flexible. This allows them to bend, rather than snap, when a major earthquake occurs.
In December 2011, a powerful 7.1-magnitude earthquake struck near the town of Wau in Morobe province. The earthquake was felt as far away as the capital Port Moresby, about 221 kilometers (137 miles) south-southeast of the epicenter, but there were no reports of damage or casualties.
Most notably, in July 1998, a powerful 7.0-magnitude earthquake struck just off the north coast of the country's island of New Guinea, causing a landslide which resulted in a local tsunami. The disaster left at least 2,183 people dead and thousands more injured.