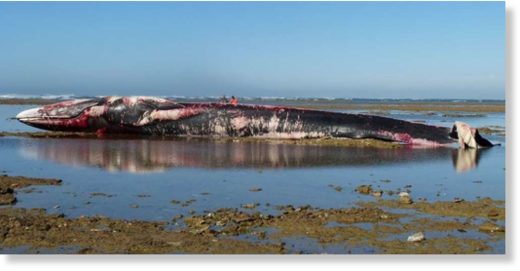 It is a fin whale, a length of about 20 meters. The observatory of marine mammals and birds Pelagis, located in La Rochelle, intervened on Wednesday morning, following the beaching of the animal over a range of Ars-en-Ré on the Ile de Ré.
"According to our first observations, the whale weighed less than 15 tons, or one-third of his normal weight, and it was in very bad physical condition," explains Willy Dabin, of the observatoire Pelagis. "His death goes back at least 48 hours, and we can assume that it has failed alive, and that he has agonized over the beach. "
"We can exclude a collision with a boat"
The cause of death will be known with precision due to sampling that will be performed on the animal this Thursday, on the occasion of his butchering. "The operation is expected to begin around 13 hours, with the material of construction obtained on requisition from the prefecture. "
That said, the specialist believes " that one is certainly faced with a natural death ". "Remains to be determined if it is viral or bacterial in origin. But we can already exclude a collision with a fishing boat. "
Between one and three strandings per year on the Atlantic coast
The fin whale "lives and lies off our coasts," explains Willy Dabin, " it is therefore quite normal to find some dead bodies washed up. "The observatory intervenes, on average, between one and three times per year on the Atlantic coast, and about once a year on the mediterranean coast.