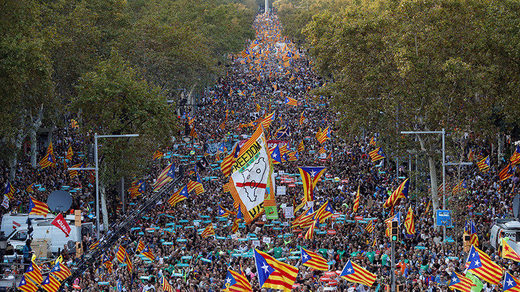 Several major world events developed this week. While Putin and Xi both gave speeches outlining their takes on the present - and visions for a better future - fracture points in the rest of the world creaked and groaned. Protests continue in Spain as the government made moves to dissolve the Catalan parliament and hold its separatist leaders accountable. Kurdistan's own failed independence referendum was similarly squashed - the Iraqis took back Kirkuk almost without a shot fired, apparently with help from Iran. The Americans claim victory over ISIS in Raqqa while the Russians and Syria continue to clear the Deir Ezzor region of its jihadist occupiers. Israel continues to support Al-Qaeda in Syria - as if anyone could expect anything different from the world's worst terrorist regime.
Meanwhile the Russiagate non-scandal continues to unravel in the States, with increasingly hysterical stories quickly debunked, and no evidence presented for any of the major claims. Except when it comes to Hillary Clinton and Barack Obama. The Hill exposed the Democrats' own Russiagate this week. Already, more evidence of their "collusion with Russia" has been presented than for the entire last year's worth of anti-Trump innuendo. This comes on the heels of major Democrat fundraiser and Hollywood bigwig Harvey Weinstein being exposed as a serial sex abuser, the fallout of which has seen dozens of celebrities come forward with their own accounts of abuse in the industry.
Join us live from 6-8pm CET (4-6pm UTC / 12-2pm EST) on the SOTT Radio Network for a SOTT news round-up you won't hear anywhere else.
Running Time:
01:56:04
Download:
MP3