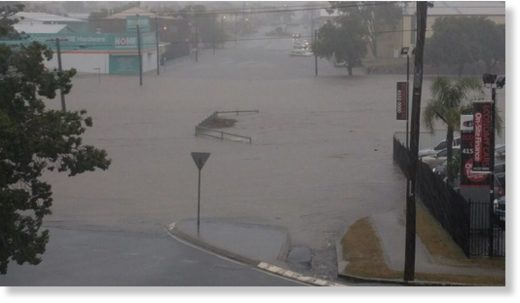 Severe weather has drenched and damaged the Queensland coast with power outages, flooding, intense rainfall and what locals in one city believed to be a "tornado" striking on Monday.
Bundaberg was battered by wet and wild weather resulting in the all-time rainfall record for October being knocked out of the park in just one day.

The city recorded 286mm in the six hours to 6.30pm with a total of 339 millimetres falling in the 24 hours prior, smashing the October rainfall record of 280 millimetres
.
In addition, more than 3000 properties were without power in Bundaberg and significant flooding had taken hold across the city.
Emergency services in the area had responded to more than 90 calls for help by the early evening, including roof damage, minor house flooding and fallen power lines.
Meanwhile, Woodgate, north-west of Hervey Bay, saw 178 millimetres fall in three hours and Moorland, north-west of Bundaberg, saw 141 millimetres in the six hours to 3.45pm.
There were also reports that some form of a tornado had swept through Bundaberg, with images showing significant damage posted on social media.
Weatherzone meteorologist Brett Dutschke said having seen the images and video, he believed "the damage was consistent with something like a tornado".
He added that given the "massive downpour and thunderstorm" nearby, the weather was "conducive" to a tornado occurring.
Meanwhile, BoM meteorologist Adam Blazak said the worst of the rain for Brisbane was expected during Monday night and Tuesday morning.
"I wouldn't be surprised for another 10-20 millimetres to fall tonight," he said.
More than 2200 buildings had lost power in Brisbane City by Monday night.
In the south-east, Nambour near the Sunshine Coast had received 38 millimetres since 9am and Gatton in the Lockyer Valley recorded 30 millimetres during the same period.
A variety of severe weather warnings have been issued and updated throughout the day.
Three troughs were set to combine to cause the wild weather - an upper trough over south-west Queensland, an inland trough through the central interior and a slow-moving coastal trough over the Capricornia waters.
"Six hourly rainfall totals of 90 millimetres to 120 millimetres are possible, with isolated heavier falls up to 200 millimetres possible, particularly near the Wide Bay coast," the bureau warned on Monday.
"The upper trough is expected to weaken while slipping further south-eastwards overnight tonight into Tuesday.
"Heavy rain is then expected to focus further offshore of the coast from early Tuesday morning.
"Thunderstorms will likely occur in the wake of the rain band through Tuesday through the south-eastern quarter of the state."
Locations that may be affected include Gympie, Bundaberg, Noosa, Maryborough, Hervey Bay, Fraser Island, Cherbourg, Toolara Forestry and Town of 1770.
A separate severe thunderstorm warning for damaging winds and heavy rainfall was also in place.
"Severe thunderstorms are likely to produce locally destructive winds and heavy rainfall that may lead to flash flooding in the warning area over the next several hours," the bureau warned on Monday night.
"Locations which may be affected include Maryborough, Hervey Bay, Fraser Island, Hervey Bay waters and Toolara Forestry.
"A separate Severe Weather Warning is current for heavy rainfall between Gladstone and Noosa Heads and east of Cherbourg."
There was also a flood watch current for the Dawson River, about 330 kilometres west of Bundaberg, as well as the Elliott River catchment near Bundaberg. A strong wind warning was also in place for water along the Fraser Island coast and Sunshine Coast.