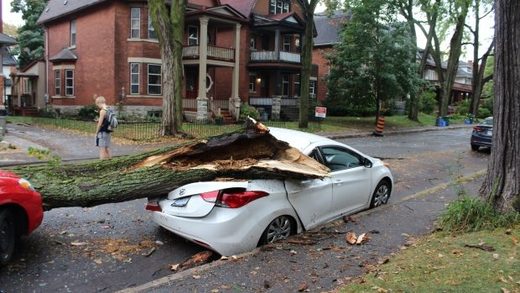 Britannia Yacht Club recorded wind gust of about 160 km/h at 3:08 p.m. Wednesday
A rapidly moving column of sinking air called a microburst is likely to blame for the damage caused when a powerful storm moved through the National Capital Region Wednesday afternoon, Environment Canada says.
The Britannia Yacht Club on the Ottawa River
recorded a wind gust of about 160 km/h
at 3:08 p.m. Wednesday, the weather agency said in a French-language notice posted on its website Friday. Staff at the club confirmed the reading to CBC Thursday.
Winds moving that fast are consistent with F1 tornadoes, but microbursts can also cause winds at speeds of more than 100 km/h.
Damage was spread over an area stretching about seven kilometres, Environment Canada said, adding that the data contained in its notice is preliminary and doesn't constitute a final report.
Trees felled, people injured
The storm toppled dozens of trees throughout the region - one struck and critically injured a woman, while another injured a man - ripped most of a roof off a building, toppled scaffolding at a work site and left thousands of Hydro Ottawa customers without power.
Keelan Arnold, the head of the city's forestry department, said the city got about 450 calls for downed trees.
The National Capital Commission, meanwhile, said the Sir John A. Macdonald Parkway and Mud Lake areas were the hardest hit. About 50 trees were down along the parkway near Woodroffe Avenue.
A microburst is a column of sinking air that can come down at speeds over 100 kilometres per hour. Its trail of damage is distinctive because it appears to have been caused by wind coming from a single direction.
The same kind of weather event was to blame for the collapse of a Bluesfest main stage in 2011.