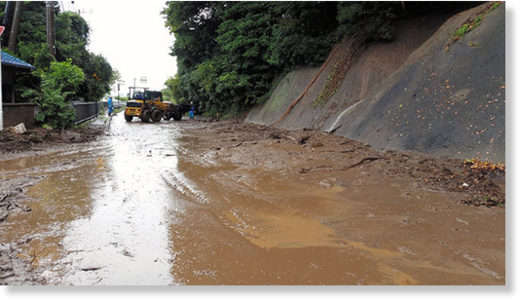 Torrential rain in the Tokyo metropolitan area caused landslides and flooding that disrupted train services and stranded motorists on the morning of Sept. 28.
One person was reported swept away in a river in Yokohama, and nearly 2,000 residents were issued evacuation orders in Chiba Prefecture.
Although the heaviest downpours have passed, the Japan Meteorological Agency is still urging people to take precautions against possible disasters.
In the hour to 5:40 a.m., 87 millimeters of rain fell in Miura, Kanagawa Prefecture, a record for the city,
according to the agency. Four passenger vehicles in the area were stranded on flooded roads around 5:30 a.m.
Futtsu, Isumi and other cities in Chiba Prefecture received about 100 mm of precipitation in one hour, the agency said.
Landslides and other rain-related problems blocked around five points on national routes in Chiba Prefecture, including National Route 127 in the Takeoka district of Futtsu, according to the crisis management division of the prefectural government. Thirteen points on prefectural roads were blocked as of 11 a.m.
Evacuation orders were issued to 1,384 residents of 481 households in the Furusawa, Taito and Chimachi districts of Isumi city.
The Chiba prefectural center of flood disaster prevention said the water level reached the threshold that could cause the Kamogawa river to overflow at the observation point in the Kaisuka district of Kamogawa.
East Japan Railway Co. suspended 15 express train services for parts or all of the Uchibo and Sotobo lines in Chiba Prefecture as of 1 p.m.
All train services between Ito and Izukyu-Shimoda stations on the Izu Kyuko Line in the Izu Peninsula in Shizuoka Prefecture were suspended in the morning. They started to resume operations shortly after noon.
The heavy rain was caused by a low pressure system with a rain front moving across the Japanese archipelago.