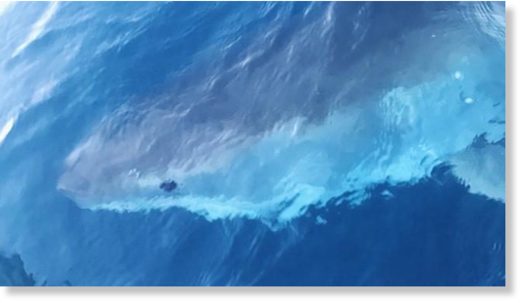 Anxious Esperance residents have pleaded for government help after a
third attack on a boat by an aggressive great white shark this week.
The incident occurred near notorious attack site Kelp Beds Beach.
More untagged and aggressive great white sharks have been encountered by people in the past two weeks than the two sharks detected by Fisheries' new $100,000 VR4 receivers, installed on Esperance beaches in June.
Fishermen Jacob Oversby, 25, and Luke Christian, 25, were fishing in Wylie Bay last weekend when their 6m boat was attacked by a 3.5m great white shark, the same aggressive shark they had seen two days earlier. After taking just 10 seconds of video of the attack, the fishermen fled.
Margaret River surfer and animal behaviourist Neil Innes said the
video showed the shark giving a warning slap of its tail, before trying to "kill" the motor.
"It was bold," Mr Innes said.

"It lifted its tail and slapped it — that was the first warning; 'If you don't go, I'll bite you'."

Mr Oversby said the same shark had attacked them last week: "It's got a black mark, scar, on its side. (It's) 100 per cent the same one."
Filmmaker and local shark expert David Riggs said locals feared another great white shark attack was inevitable in Wylie Bay. He said for public safety, it should be tagged so the beacon was alerted when it was close.
Esperance Ocean Safety and Support Group leader Mitch Capelli said Fisheries WA told an Esperance community "shark information night" on May 17 it would tag great white sharks for three weeks in August, but nothing had been done.
If the seasonal aggregation of great white sharks were not tagged in Esperance, the town's two VR4 receivers were a false sense of security.
A giant electronic sign with pages of warnings and updates on sharks was erected at Kelp Beds Beach by local MLC Colin de Grussa last weekend, after the first two aggressive attacks on boats.
The Esperance Ocean Safety and Support Group sent a letter to Fisheries Minister Dave Kelly on Friday asking for permission to tag great white sharks when they were sighted and add lights and sirens to the VR4 shark monitors so water users knew when a tagged shark was within 500m.
Mr Kelly said he would ask his department to "evaluate the matters raised".