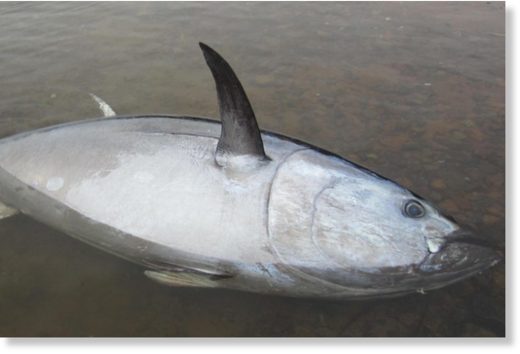 The Department of Fisheries and Oceans (DFO) is investigating the surprise appearance of a large tuna on the shores of Red Bay.
A dead 738-pound Atlantic bluefin tuna was reported washed ashore in Red Bay Sept. 12. An initial report erroneously indicated the fish was a whale, misled by the size of the tuna rarely seen on the southern Labrador shores.
Carl Bradley, DFO field supervisor, sent some of his crew to sample the otolith and tissue from the tuna to gauge its age and its stock origin.
DFO then had the fish carried out into the ocean and sunk so it wouldn't attract predators.
Alex Hanke, DFO research scientist, explains there are eastern and western Atlantic stocks of bluefin tuna.
In recent years, since about 2010, eastern stocks are being spotted more moving into Canadian waters.
"There are reports of tuna all around Newfoundland," he said.
"We had a colleague from Europe tag fish in Portugal and it crossed over to this side. It's tag popped off around Stephenville.

"We have plenty of evidence that eastern fish are moving this way."
Hanke believes they may be attracted to the large feeding opportunities on Canadian grounds.
However, this tuna is one of the biggest DFO has seen as they've been smaller than average in recent years.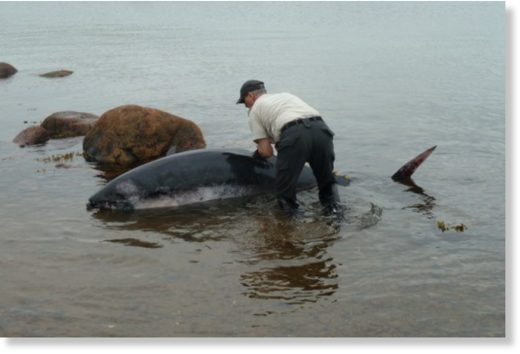 Hanke suggests the smaller sizes are due to changing ocean conditions, or because of eastern stock mixing with western and competing in the same ecosystem.
Scientists aren't sure of the identity of this particular Atlantic bluefin tuna but will know once they run samples of the extracted otolith and tissue.
Along with numerous bluefin tuna sightings, there have been multiple recent reports of striped bass along southern Labrador.

"So there's a lot of unusual things happening," Hanke said.