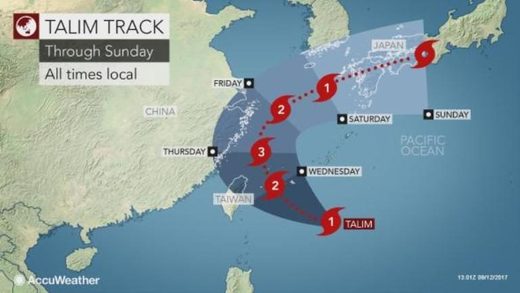 Authorities warn 10 provinces could be hit by powerful storms as Taiwan braces for first impact
Ten provinces in China's wealthiest coastal regions could be hit by two powerful typhoons within 24 hours
, the government has warned.
But they could also miss China altogether with a "last-minute" turn and hit other countries, according to the latest estimates.
Typhoon Talim was less than 500 kilometres southeast of Zhejiang province at about 10am. It could make a landfall in Zhejiang soon after reaching its peak on Thursday evening or Friday morning, according to a forecast by an expert panel led by Chen Lei, Minister of Water Resources and deputy chief of the national anti-flooding command office.
The authorities in Taiwan issued a maritime warning and airlines cancelled some flights on Wednesday as the island braced for Talim, which was expected to hit northern cities, including Taipei, and had the potential to become a super typhoon.
Meanwhile, Doksuri recently formed to the west of the Philippines and was heading to Hainan province and expected to make a landfall at about the same time as Talim.
"The areas to be affected by Talim are the most economically developed regions in our nation's eastern coastline with large cities, high population density, tall buildings and plenty of industrial infrastructure," said a statement of the expert panel released by
Xinhua
.
Talim was expected to gain in strength as it swept towards Taipei and other cities on Taiwan, lashing them with strong wind and heavy rain, the island's Central Weather Bureau said.
Its greatest impact would be felt later on Wednesday and on Thursday, the bureau said on its website, when it was expected to slam into the north and northeast with maximum sustained wind speeds of 137 kilometres per hour (85 mph) and gusts of up to 173 kilometres an hour.
It had not yet been determined whether the Taiwan government would close financial markets, companies or schools on Thursday. An announcement would be made later on Wednesday if closures were considered necessary.
China Airlines and EVA Airways, Taiwan's two largest carriers, said they would cancel some inbound and outbound international flights scheduled for later on Wednesday. A warning for sea traffic was also issued by the Central Weather Bureau.
Formosa Petrochemical Corporation, Taiwan's second-biggest oil supplier, said it had prepared to close its supply port if necessary as Talim approached, although it was waiting for a government directive.
China's National Meteorological Centre warned on Tuesday that
Talim could intensify and turn into a super typhoon
as it churned towards Taiwan and Zhejiang and Fujian provinces on the mainland.
As many as half a million people may need to be evacuated if the storm intensifies.
Coastal areas in southern China such as Guangdong province have taken repeated hits this year and they face the severe threat of flooding with the arrival of Doksuri, according to the expert panel.
The central government had dispatched 11 emergency response team to provinces and large cities including Fujian, Shanghai, Jiangsu, Anhui, Jiangxi and Guangxi, according to
Xinhua
.
Waves as high as seven or six metres are expected to hit Zhejiang and Guangdong.
But the authorities said the two systems were affecting each other, creating uncertainty about their future paths.
Talim could yet make a U-turn towards southern Japan, and Doksuri may be diverted towards Vietnam instead.
Reuters