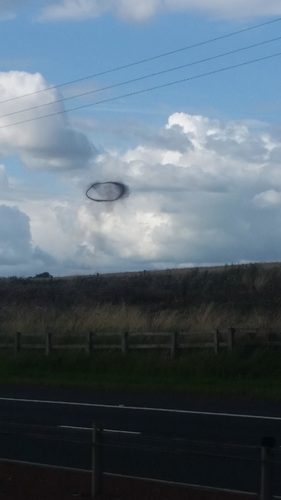 THIS eerie footage captured by a Scottish driver shows MORE spooky black rings floating in the sky near a motorway as the mystery concerning what they are deepens.
The sinister spectacle reappeared near the M9 in Linlithgow, Scotland, following similar sightings in West Yorkshire, the US and Russia.
Stunned driver Michael Georgeson said that he's 'never seen anything like this before' . Sinister unexplained black smoke rings have been spotted in the US, Russia and now Scotland
Dubbed "smoke vortexes", they have been appearing in remote spots in Siberia and the American Midwest - with another recent one being spotted in the UK.
Michael Georgeson, described how he was a passenger travelling on the M9 at around 4.30pm yesterday when he spotted the sinister looking smoke rings.
The 36-year-old managed to capture a 12-second video and pictures of the strange sight.
Speaking about the weird occurrence, he said: "I have never seen anything like this in my life.
"This was just very, very strange, it's not a sight you normally see.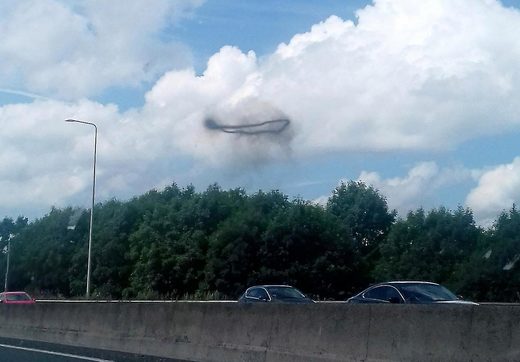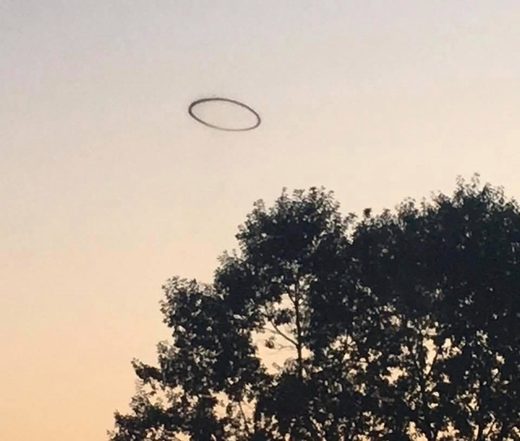 "There seemed to be a lot of smoke behind the rings, and it was coming off the black lines."
Mr Georgeson, who works for a facilities management company, has shared the pictures with friends and colleagues, but is at a complete loss trying to explain what he saw.
"I won't believe in something like aliens unless they are stood in front of me," he added.
"But I have no idea what they were."
The
surreal sight is straight out of the 2016 film Arrival
where visiting aliens use the circles to communicate.
In July Kimberley Robinson, 22, was driving down the M62 near Birkenshaw, West Yorkshire, with her boyfriend Danny Cooper, 26, when they noticed the creepy black mark.
Full-time mum Miss Robinson described the circle as "the weirdest thing I have ever seen".
She said: "Me and my boyfriend were driving today and noticed a black flying ring in the sky.
"It looked a bit smokey but the shape was a solid ring.
"We hadn't ever seen anything like this before.
"We have looked into it and no one knows what it is."
West Yorkshire Fire Service say there had been no reports of fire at the time of the sighting on Sunday July 9 just after 1.30pm.