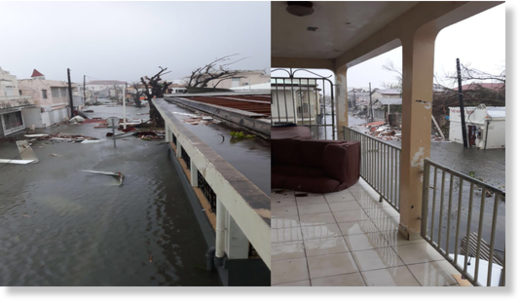 Hurricane Irma has caused serious damage to rooftops and knocked out all electricity on the French islands of Saint Martin and Saint Barthelemy, the Associated Press reported Wednesday.
France has requisitioned planes and sent in emergency food and water rations.
The regional authority for Guadeloupe and neighboring islands said in a statement Wednesday that the fire station in Saint Barthelemy is under more than 3 feet of water and no rescue vehicles can move.
They said the government headquarters in Saint Martin is partially destroyed and the island is in a total blackout.
Electricity is also partially down on the larger island of Guadeloupe, where the threat receded, despite the danger of heavy flooding.
Photos taken on the island show vehicles submerged in parking lots and homes with parts of their roofs ripped off.
French minister for overseas territories Annick Girardin expressed fear "for a certain number of our compatriots who unfortunately didn't want to listen to the protection measures and go to more secure sites."
She added: "We're preparing for the worst."
The government of France has since discontinued all warnings for Guadeloupe.
Meanwhile, Antigua and Barbuda Prime Minister Gaston Browne said the twin-island nation appears to have weathered its brush with Hurricane Irma.
Browne said in a statement that there were no deaths in Antigua.
He said that preliminary reports also indicate there are no deaths in Barbuda despite widespread reports of damaged buildings and downed trees. He plans to visit as soon as possible.
The airport will reopen at 2 p.m., the prime minister said.
The government of Antigua has also discontinued all warnings for Antigua, Barbuda, St. Kitts, Nevis and Montserrat.
The U.S. State Department has warned U.S. citizens to reconsider travel to Cuba, Haiti or the Dominican Republic because of the expected impact of Hurricane Irma.
Officials with the department note that the Category 5 storm could bring life-threatening flooding, flash flooding, mudslides and storm surge, while travel and other services will likely be disrupted.
The department officials said they have authorized the voluntary departure of U.S. government employees and their family members from the three countries because of the hurricane.
Source: Associated Press