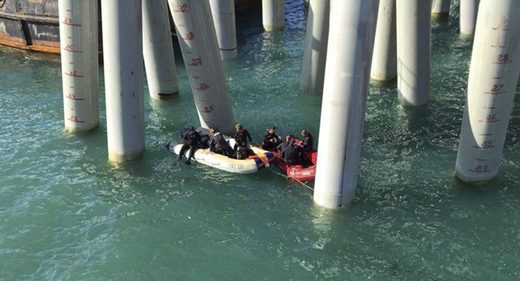 Seventeen people have died after a bus plunged into the sea in Russia's Krasnodar Territory, the Russian Emergencies Ministry told Sputnik on Friday.
"The bodies of 17 deceased people have been found, 27 people were rescued, 15 of them were hospitalized," the ministry official said. "Nine people are being taken to the same hospital."
The official said search and rescue efforts are ongoing to find one person whose fate remains unknown.
Initially, a source in the local emergencies services told Sputnik that twelve people were confirmed dead, while 20 were rescued. The source also said earlier that three people were missing.
The incident occurred on Friday morning when the bus fell into the sea near the village of Volna in Kransodar region's Temryuk district. The vehicle was carrying construction workers of the "Tamanneftegaz" firm that was engaged in the construction of a pier in the village.
The territorial Emergencies Ministry press service confirmed the incident and said searches are being carried out with assistance from federal rescue teams.
The Investigative Committee said it launched a criminal case into a suspected traffic violation that led to the deadly incident in the town of Volna on the coast of Kerch Strait.
An emergency service source disclosed earlier that the bus was transporting shift workers involved in the construction of a pier for the Tamanneftegas energy company.