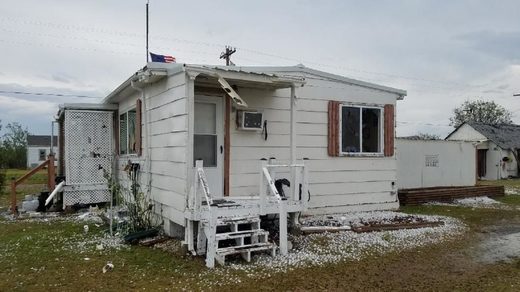 Homes and vehicles were heavily damaged in a northwestern Kansas town Thursday afternoon when severe storms dumped huge hail on the area.
In one part of WaKeeney, a town of about 1,800 located some 200 miles northwest of Wichita, 90 percent of the vehicles in a parking lot were damaged by the hail, and nearby homes had window and siding damage, a National Weather Service employee reported.
In Trego County, where WaKeeney is located, hailstones as large as softballs were seen in some areas, according to reports relayed to the NWS.
"The atmosphere is primed this afternoon for giant hail and damaging winds as a slow-moving cold front drifts southward into the southern Plains at the surface and a burst of energy pushes southeastward from the central Rockies across the Plains," said weather.com meteorologist
Jonathan Belles
.
The storms also brought wind gusts in excess of 70 mph, and in WaKeeney, strong winds
blew over a tractor-trailer on Interstate 70
, according to KSN.com. A separate crash on I-70 left at least one person injured, though the report didn't specify if weather conditions caused the crash.
Officials did not say if the hail was responsible for any injuries in the immediate aftermath of the storms.