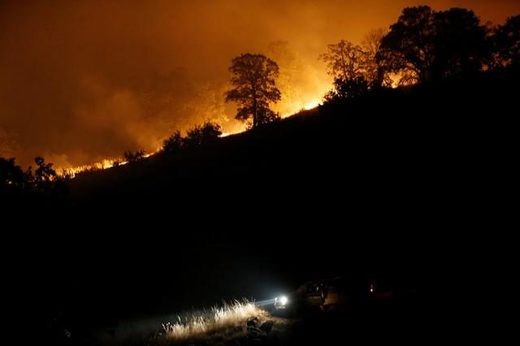 Firefighters and determined residents of Mariposa County continued their battle against the massive Detwiler Fire on Thursday as wildland blazes continued to burn around the state, generating smoke for hundreds of miles.
More than 350 square miles of land has burned so far this year, and the Detwiler Fire west of Mariposa continued to pose danger to historic small communities that have been emptied out by evacuations since the fire began Sunday.
In tiny Catheys Valley along Highway 140, the danger appeared to have passed for now, but a handful of residents who opted to stay and fight recounted how close the flames had come.
"The fire jumped the ridge, came over here; it was 30- to 40-foot flames right in front of our houses," said Frank Gomes, who has lived in the ramshackle collection of homes and trailers for five years along with about 30 neighbors. "Me and the owner of the property, we stayed to defend the property because this is actually low income, so we just didn't want to see everybody lose the little bit that they had."
Gomes, who spoke as fire trucks remained on watch in front of his property, said he had seen fires in the area in the past, but never one with the ferocity of the Detwiler Fire.
"This is the worst one I've seen," he said, adding that firefighters had saved the area. "Cal Fire did a great job, Mariposa Fire Department and all the other ones that came from all over to help us and protect us and we thank them.
"Everybody did their part, and very few houses burned. They saved a lot of people."
By Thursday, Cal Fire estimated the blaze had burned more than 70,000 acres, destroyed 45 homes and 40 other structures, and was only 10 percent contained. Another 1,500 structures remained threatened. About 3,200 firefighters were working to save the towns of Mariposa and Coulterville, as well as other tiny communities tucked into the foothills and steep canyons.
The topgraphy of the area was causing problems in the firefight, and although firefighters were making progress, Cal Fire spokesman Scott McLean said higher temperatures predicted for the weekend may make the effort much more difficult.
After five years of drought broken by record rain and snow, the conditions for wildfire are almost perfect.
Thick grass and brush that grew from the rains then dried out in the heat helped feed the fire when it began Sunday. The flames still are heading east toward heavy areas of forest pocked with large stands of dead trees, McLean said.
"Yeah, the drought was declared over, but we are now going to have to be dealing with the results from that drought," he said. "This is a prime example in the dead vegetation that is burning in this fire."
The number of fires so far this year statewide for Cal Fire is staggering. As of Wednesday, Cal Fire had reported 3,321 blazes - about 100 new ones since Sunday - that had burned nearly 200,000 acres. That compares to 2,480 fires as of July 16, 2016, that had burned 32,025 acres. Those figures don't count fires that burned federal land.
"So you can see the significant difference," McLean said. "Fire season started early, as soon as the winter quit, and our heavy grass crop is one of the culprits."