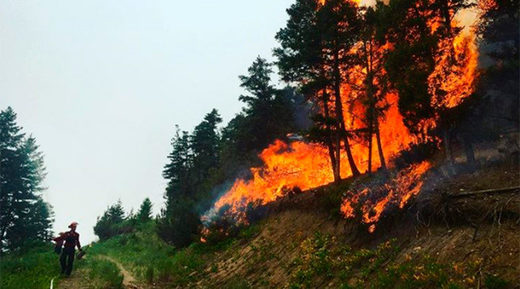 An entire city and surrounding areas in British Columbia were forced to evacuate as raging wildfires intensified by strong winds spread across the region.
An evacuation alert was
issued
for Williams Lake and surrounding areas in Cariboo Regional District on Saturday.
"All individuals in the City [Williams Lake] and the above areas must evacuate immediately," the order stated.
Around 12,000 people live in the city, and the same number of people in the surrounding areas were also ordered to evacuate, CBC Canada
reported
.
"We're a little anxious at the moment. I'll tell you that," Sue LaChance, an evacuee, told CBC, "It's quite surreal actually. I'm almost 50 years old, and this is definitely a first."
"Winds picked up and huge fires all around us," Jacinda Mack, a community member who stayed in the city to assist firefighters,
told
the
Vancouver Sun
. "Everybody moving north - huge, huge smoke."
A nearby fire disrupted Highway 97, north of the city, Mayor Walt Cobb said.
"We made the decision to get everybody while we could, because depending on how the fire went, we might have lost all our access out of town," he said, adding that mass evacuations blocked roads and "the traffic is very, very thick."
Local residents were asked to evacuate to the city of Kamloops, 200km from Williams Lake. The authorities created
a Facebook page
connecting evacuees with Kamloops locals willing to assist.
According
to Cariboo Regional District Chairman Al Richmond, nature is "bringing forward our worst-case scenario."
Wildfires have been spreading across swathes of British Columbia since the start of July. Around 40,000 people have been evacuated as 167 active wildfires rage in the province as of Saturday, according to
reports
in local media.