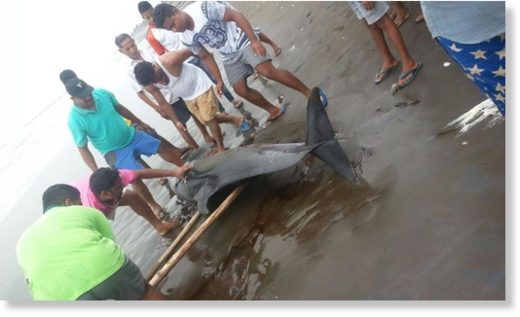 In a rare incident along the state's coastline, a seven-and-a-half-foot-long sperm whale washed ashore at Rajodi beach, Virar, around 3pm on Thursday.
Though the state mangrove cell confirmed that it was a sperm whale, the officials are unclear whether it was a juvenile whale or a pygmy or a dwarf (subspecies). The whale weighed 60 kg.
Fishermen from Rajodi said they spotted the whale close to the shoreline towards the south side of the beach and it looked injured.
"The mammal most likely hit a large rock close to the shoreline and got injured. We tried pulling it out, but it died as soon as it came close to the beach. We informed the forest department but nobody showed up at the spot," said James Rodrigues, a fisherman and Rajodi beach resident. "Along with seven others, we buried the animal near the spot where it had washed ashore. We have not seen a mammal like this at this beach before."
When
HT
contacted the forest officers from Vasai-Virar, they were unaware of the beaching incident.
According to the Konkan Cetacean Research Team (KCRT), the last documented evidence of this mammal to have beached is from Goa in March 2016.

"This species of whale has not washed ashore along the state's coastline for more than a decade. It is extremely rare
and our team is going to collect tissue samples and study the mammal," said Mihir Sule, member, KCRT.
This was the 15th case of dead marine animal carcass washing ashore along Mumbai's beaches. Between 2015 and 2017, 74 carcasses have washed ashore along the city's coastline.
Both the dwarf and the pygmy sperm whales are protected under schedule 1 of the Wildlife Protection Act, 1972. Owing to lack of information about the species, the mammal is not listed under the International Union for Conservation of Nature (IUCN).